Tree terrace on uninhabited island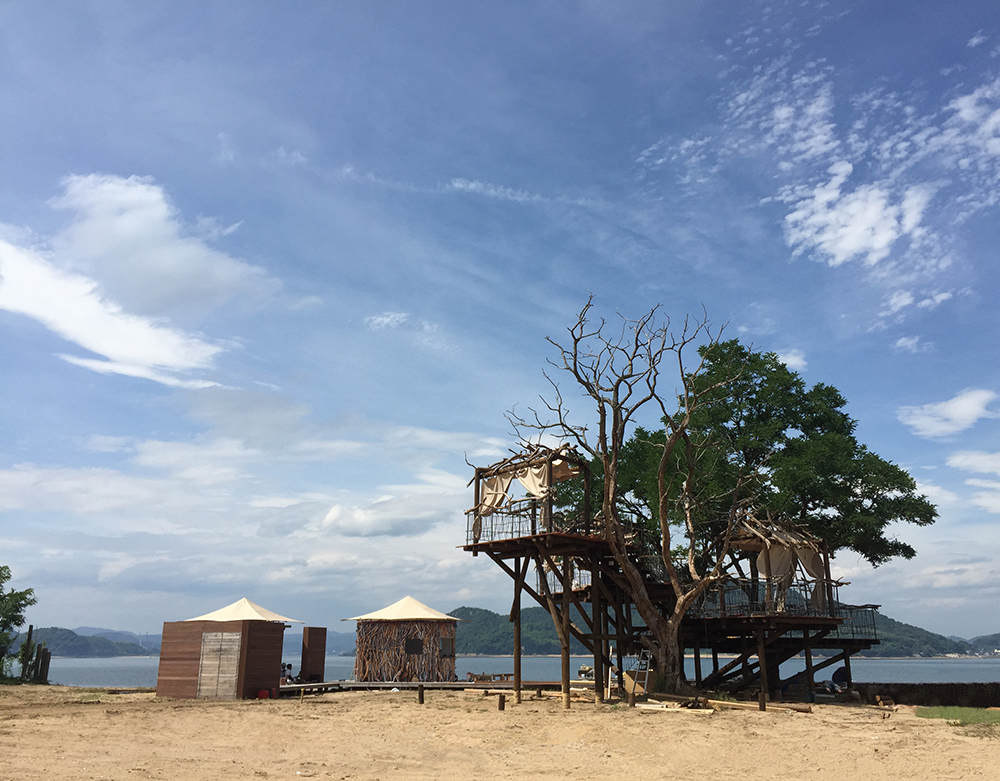 The site is located on an uninhabited island in the Seto Inland Sea. We were asked to create a place for beachgoers to spend time. There was no electricity, gas, or plumbing, and it was a challenge to bring in heavy machineries. We began by imagining ourselves casting ashore to an uninhabited island, and where and what kind of place we would create. This led us to create a place with a sense of security with the least amount of labor. Thus, our attention was drawn away from the dense forest that is inhabited by mosquitos and creatures, but rather to a location that is close to the sea yet unburdened by issues such as high tides, sea winds, and blazing sunlight. We, therefore, decided to nestled among a cluster of Japanese pagoda trees on the beach. Now that we think about it, Robinson Crusoe's first dwelling was on top of a tree.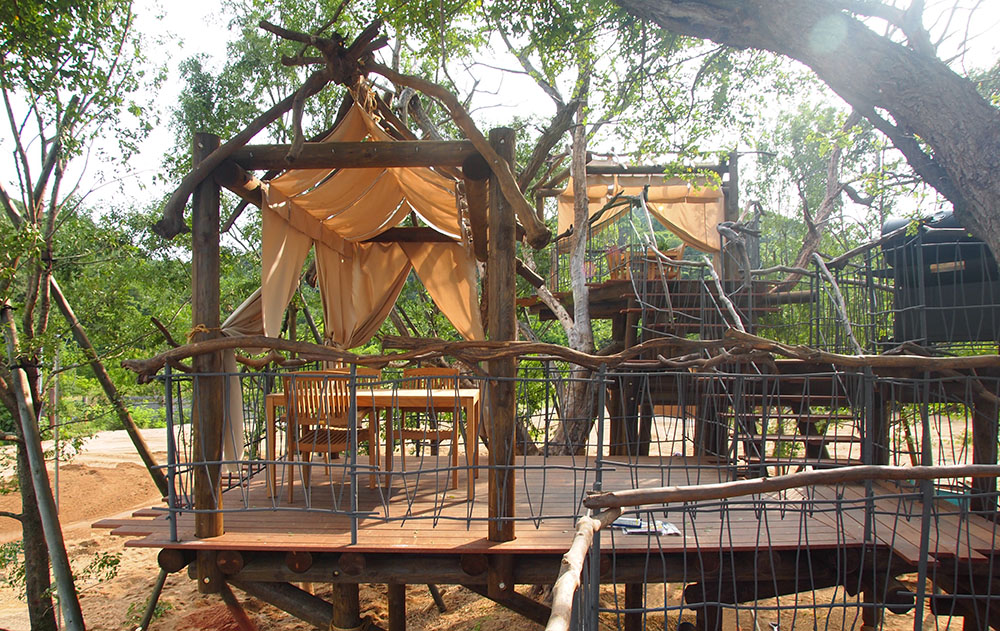 We started with the idea of collecting materials nearby, first searching the island's beaches to collect driftwoods that were well-dry. The barks had peeled off while drifting, so rotting or insect damage was not a concern. We were unable to find thick logs, so we dried driftwoods found on the beach to use as the material for trusses, walls, and handrails.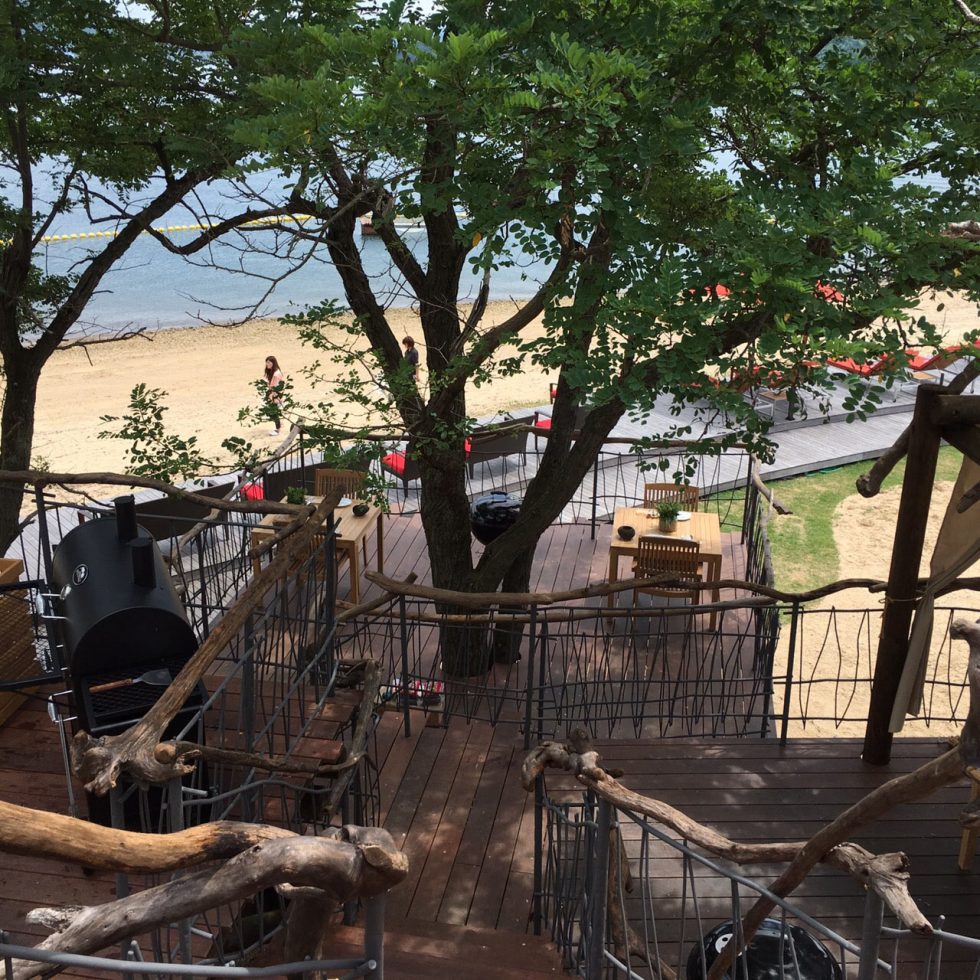 Perhaps, because they grow on the sand, the pagoda trees swayed a lot when we climbed them, thus we decided to make the structure self-sustainable. Due to its seashore location, transporting logs that are approximately four-meters long by ship and using manpower to erect them would be easier than cutting down trees on the island. For the foundation, we dug a hole by avoiding the tree roots and embedded a precast concrete to prevent alkalizing the soil by cast-in-place concrete. We, then, inserted a 150-millimeter diameter log into an anchored steel pipe. We laid beams across them to create four terraces that wove around the branches and leaves of the trees.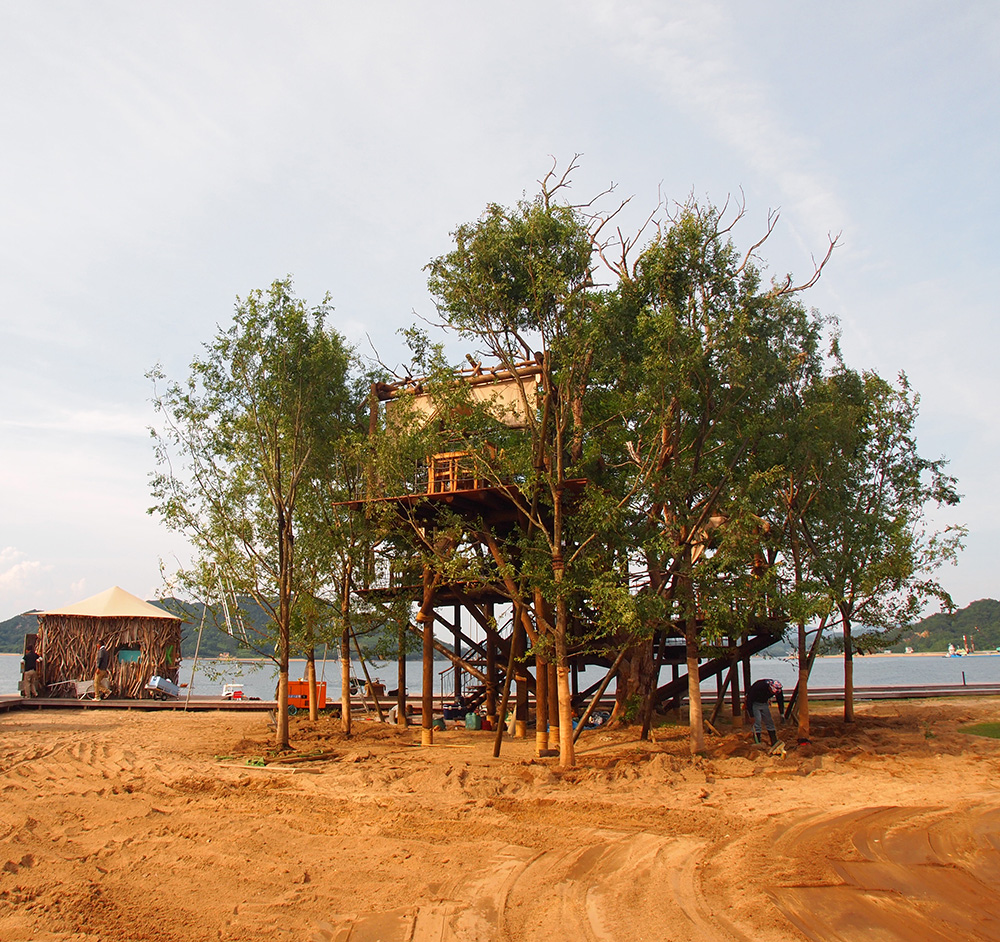 To ensure that the entire terrace resists horizontal force, we placed diagonal braces that descend towards the center of the structure, allowing to freely use the space underneath. The tent roof structure for sunshade is comprised of driftwood. The handrails are also made of driftwood, and combining with the worn reinforcing steel of the balusters, we created a space that integrates with the branches and leaves. After the construction was complete, we eventually learned that the sunlight was harsher in the summer than we expected, therefore, we transplanted Chinese elm trees to the periphery. This is a minimal structure that is hidden among and supported by trees. Somewhat resembling Marc-Antoine Laugier's Primitive Hut, this architectural work stands on the beach with a primitive presence.
Completion

2016
Principle use

Restaurant
Site area

3,800㎡
Total floor area

13㎡
Structure

Timber
Constructor

SETOUCHI HOLDINGS
Building site