Tree Hut on Volcano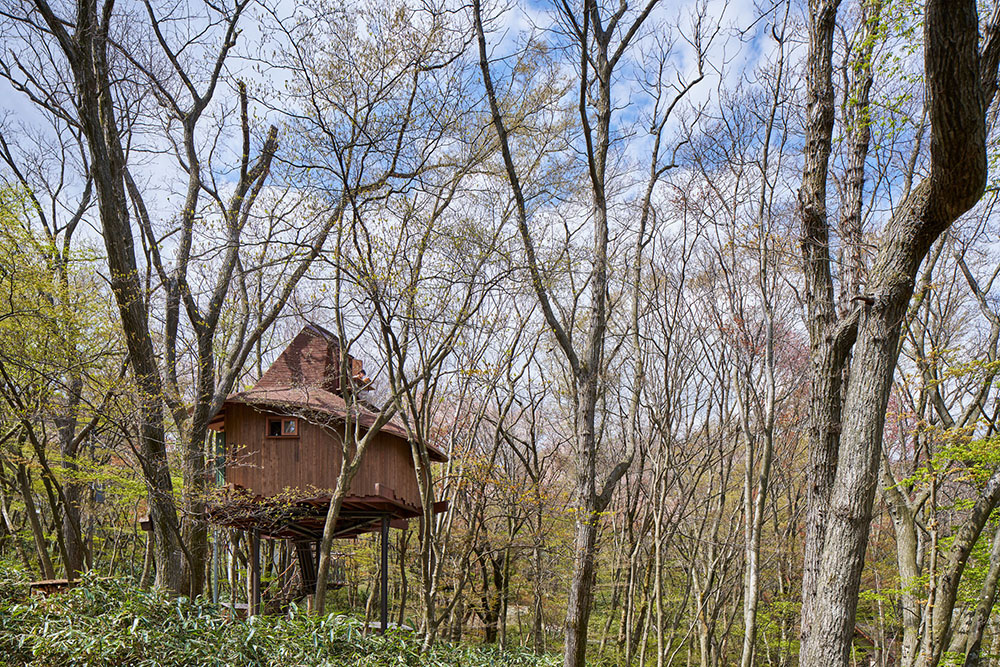 The client couple with a profound love for nature, has always lived as if they were traveling. With a belief that life is sufficient with a minimal space that is closely connected to nature and community, they started a company selling small houses and commissioned us to design the very first one as a model house.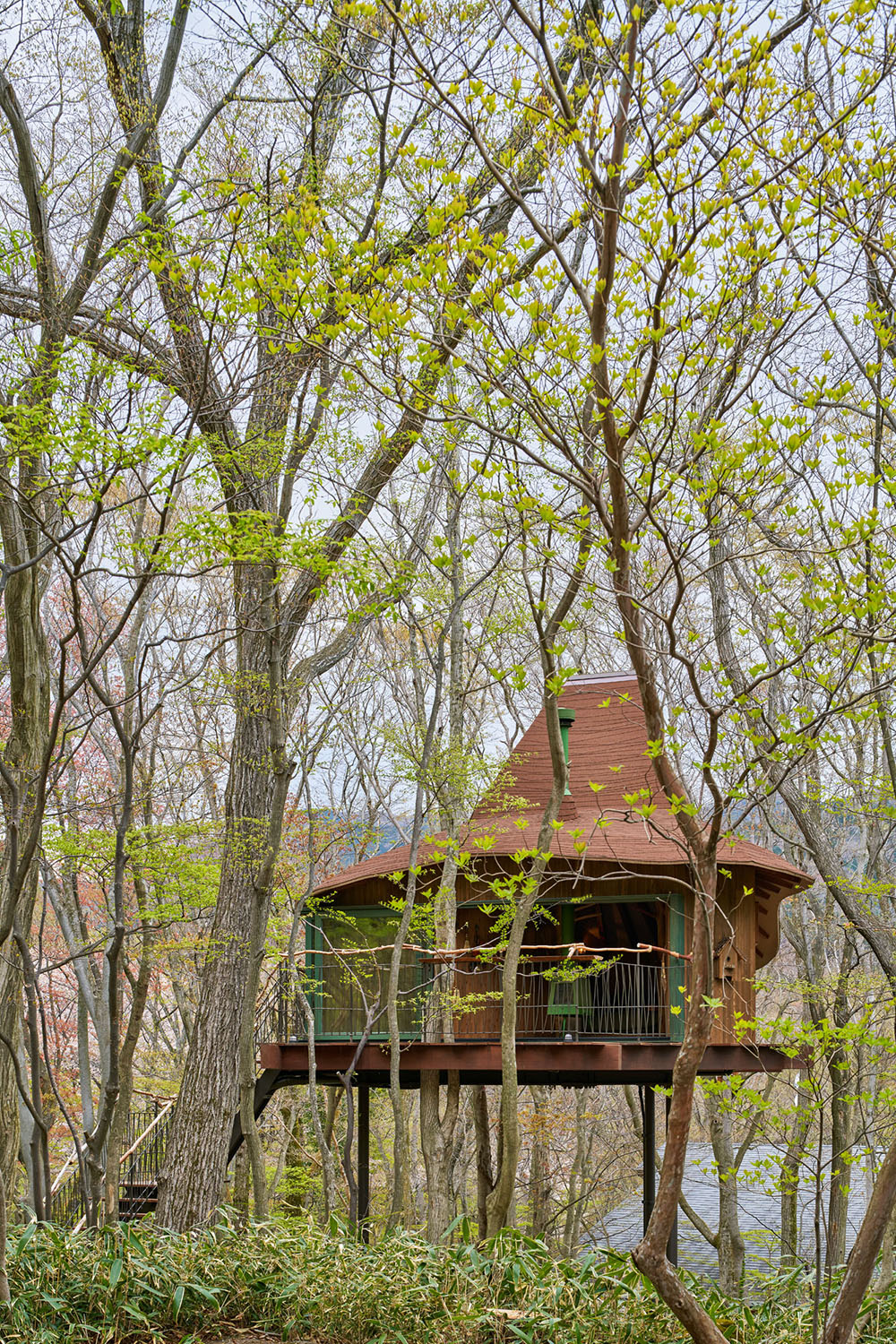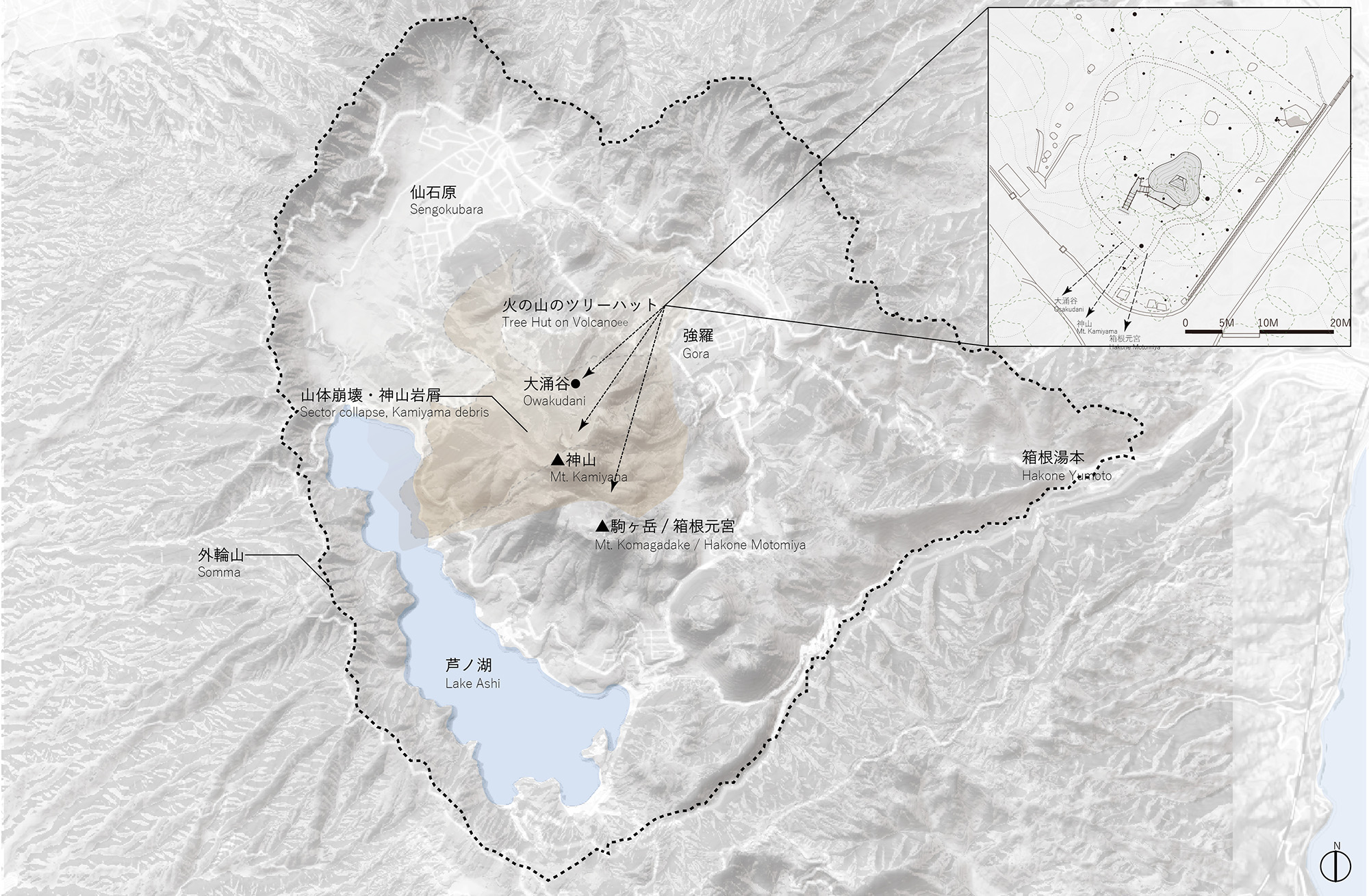 About 3,000 years ago, a phreatic eruption occurred on the slope of Mt. Kamiyama, by which Lake Ashi and Owakudani formed. Since ancient times, the people in the region have regarded Mt. Kamiyama's mighty existence with awe and held a holy fire festival, goshinka-sai, to appease the mountain. The site is located about 2km from Owakudani, a volcanic valley filled with sulfuric plumes, and occupies the south corner of a steep north slope with a flow of stream. It felt that the hut should face south towards Mt. Kamiyama and Owakudani while taking in warm sunlight especially in winter, but the visibility of the nearby streets was a problem. It also needed to avoid the heavy air containing hydrogen sulfide and moisture flowing near the ground surface. We, therefore, decided to raise the 19m² hut about 5m above the ground, which allowed a large south-facing window and created a separation from the mundane world.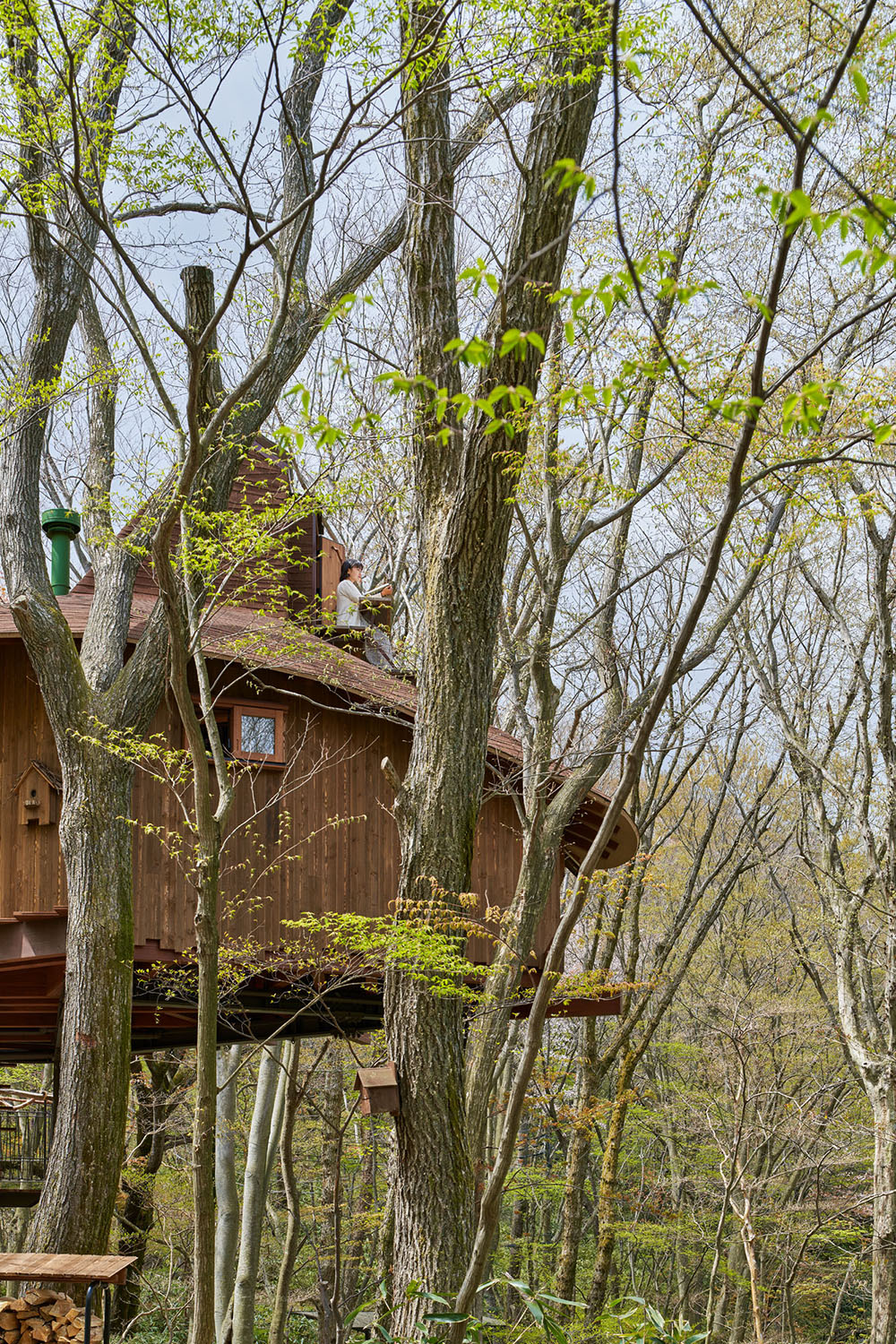 Finding a tiny open space among the trees, we erected solid steel columns 15cm in diameter and staircase that blend in with the forest. On the structural frame, we placed a wooden hut with a deck built around a dogwood tree, an environmental device creating a shade in the summer and providing sunlight in winter when the tree sheds its leaves. The three columns are designed to sway slightly when wind blows or inhabitants move about. It is thus a retrogression to a tree house, which is said to be an archetype of habitats.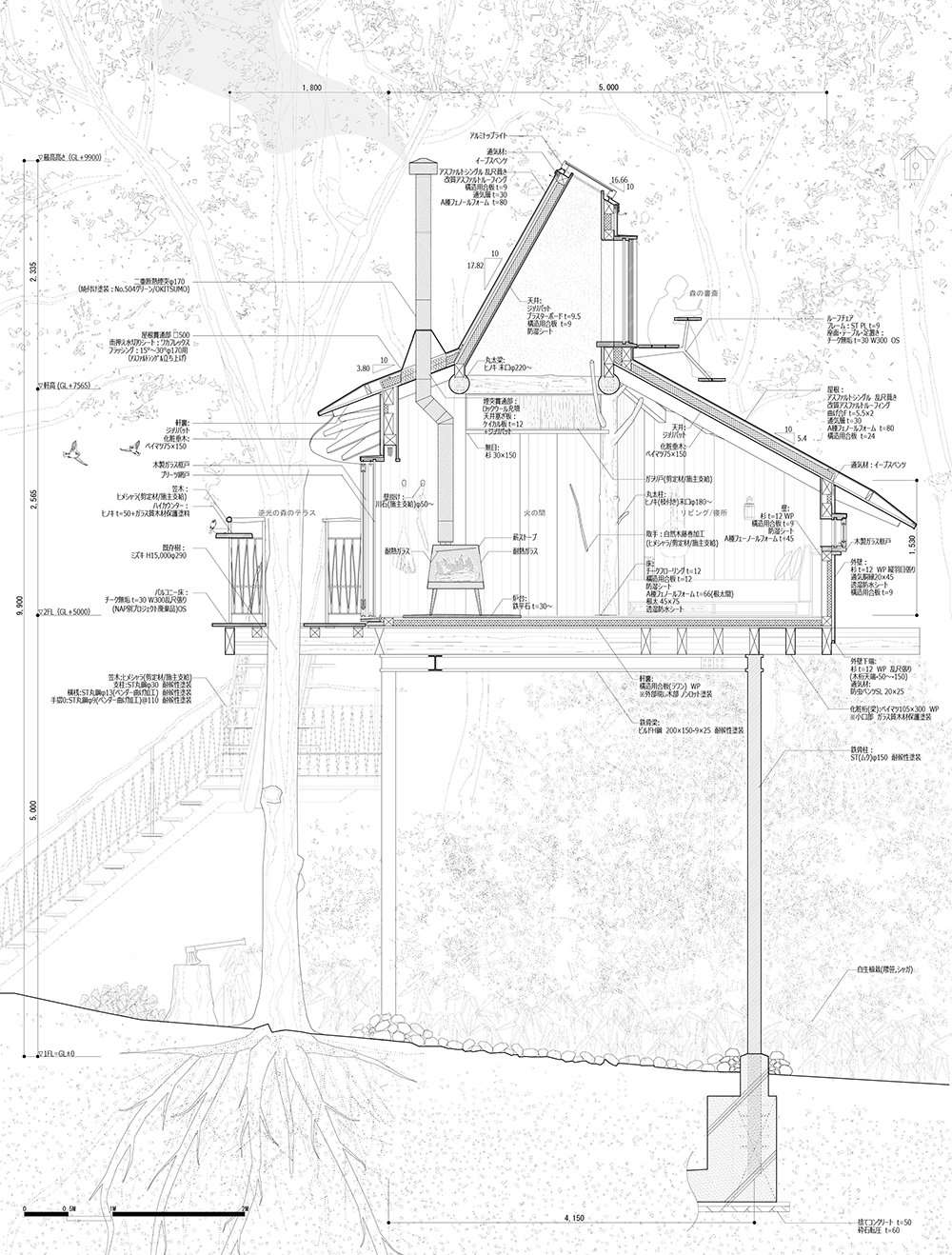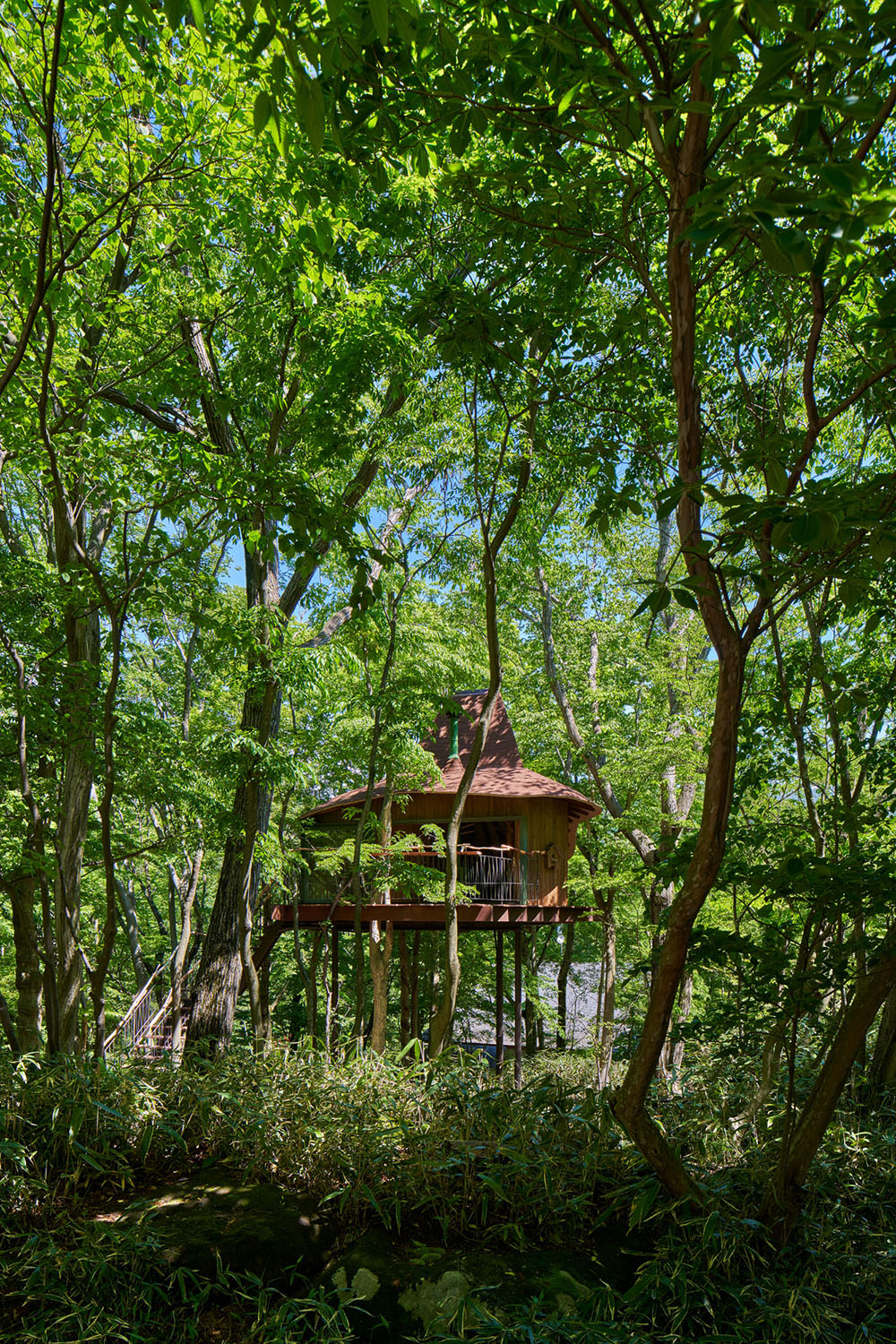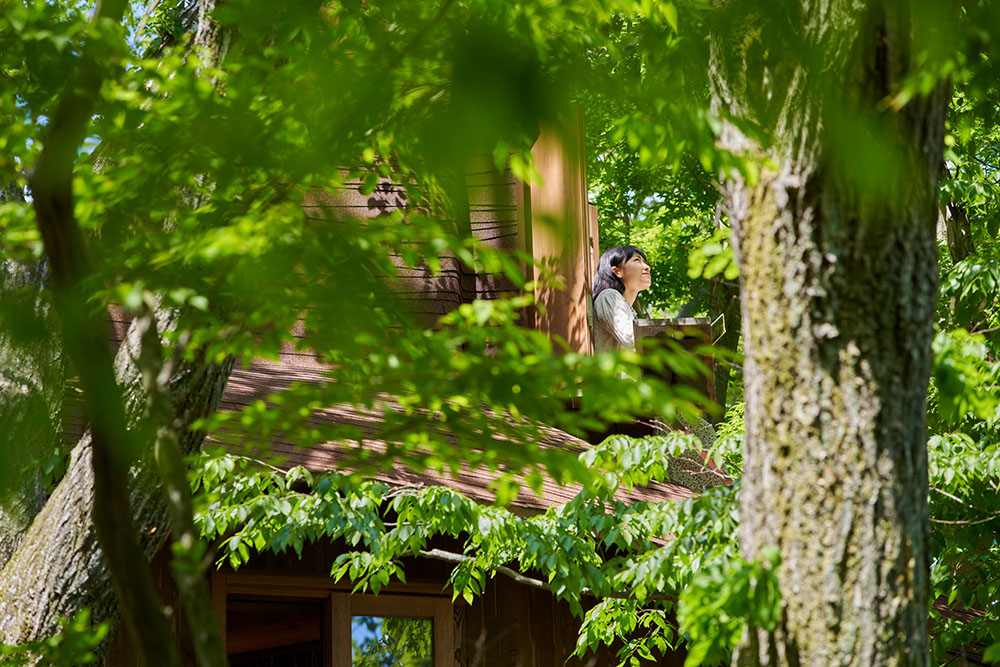 Although the interior space is small, we designed its central space to resemble a shrine, seeking to reflect its rich connection with nature and the sentiment of the people in the region for Mt. Kamiyama. The 4.9m atrium, where sublime light downpours from the skylight, is surrounded by four pillars, at the center of which sits a custom-made fireplace dedicating fire to Owakudani and Mt. Kamiyama. The two branched-log pillars in the north are placed in symmetry like a shrine gate, indicating that a sanctuary lies beyond. When viewing from deep in the room, one's perspective of the trapezoidal plan is corrected and a square space appears, within which the sacred fire stand enshrines, corresponding to the holy fire before a Buddhist alter and the Shinto shrine's fire burning ceremony.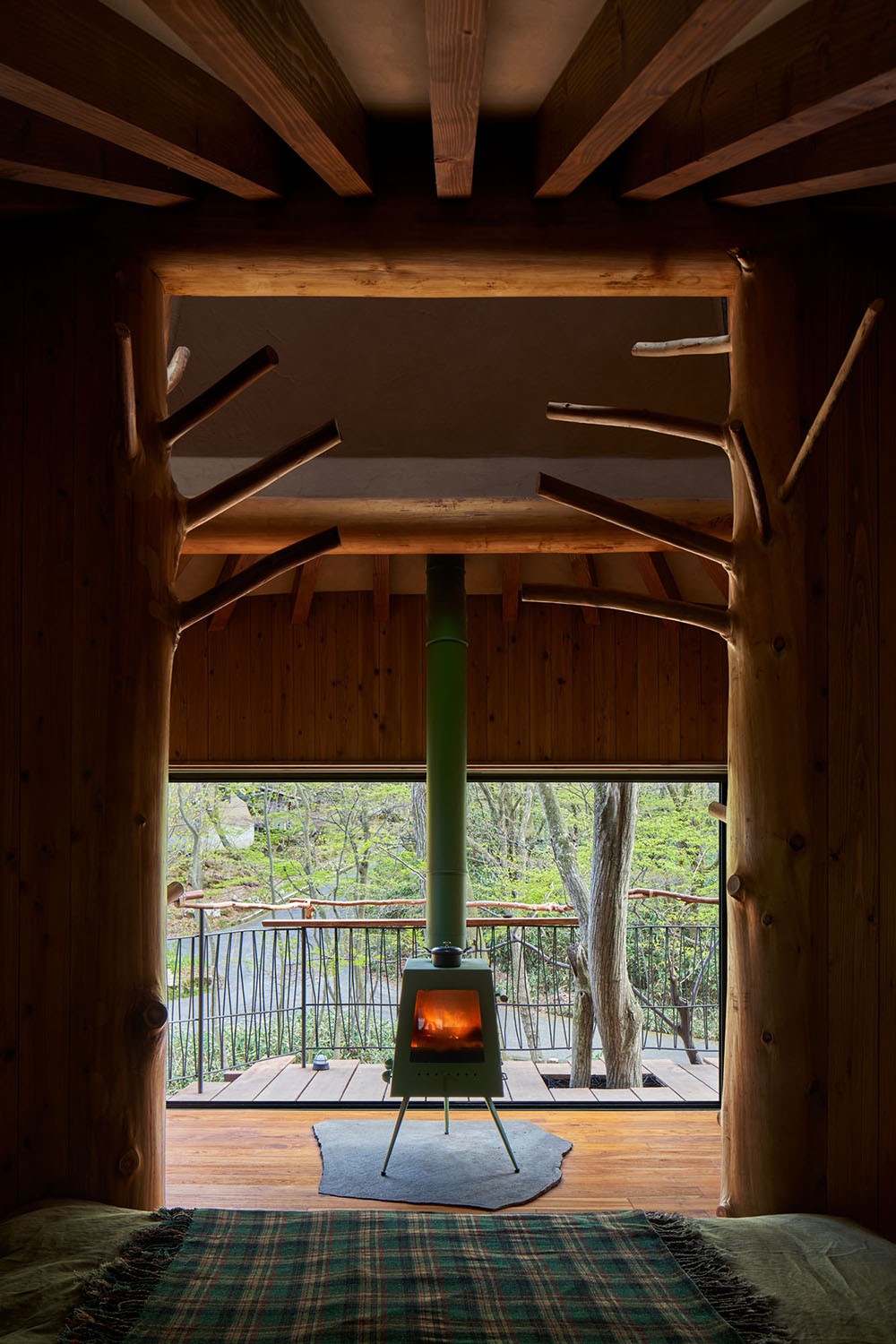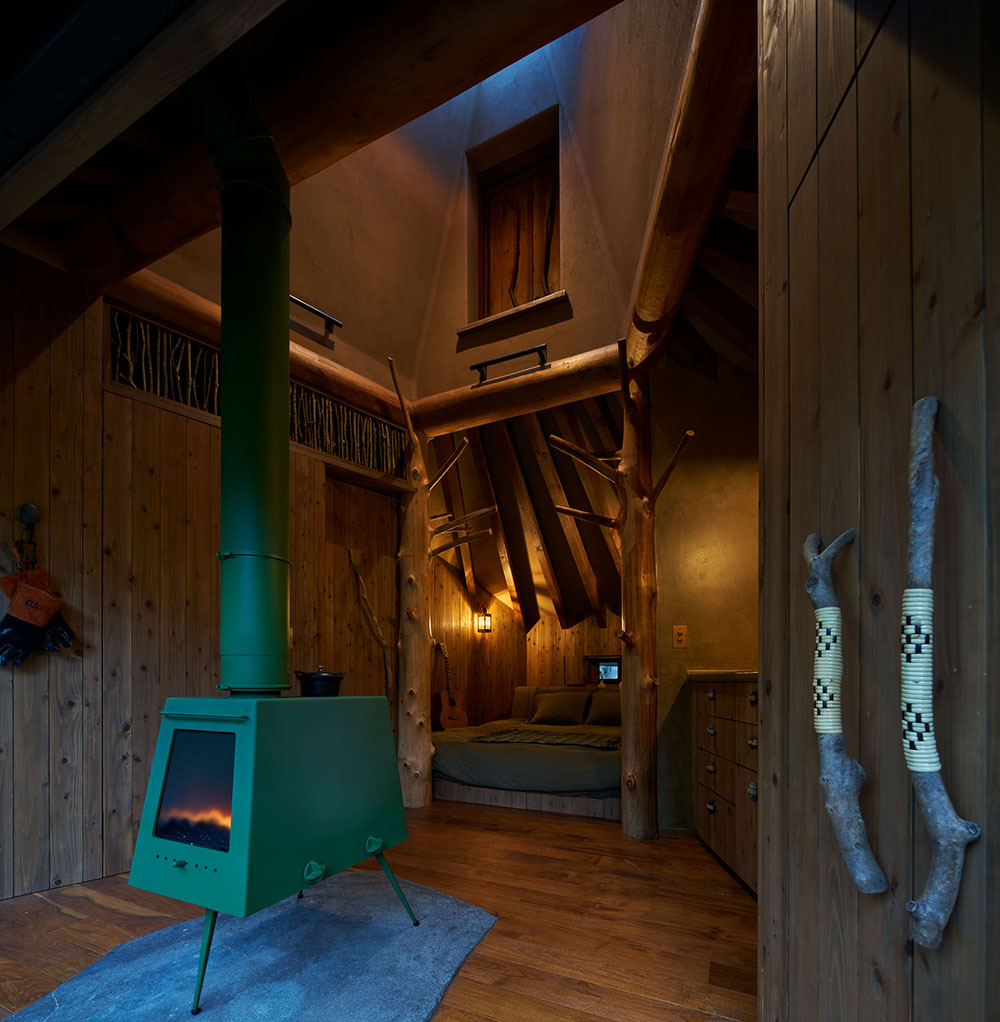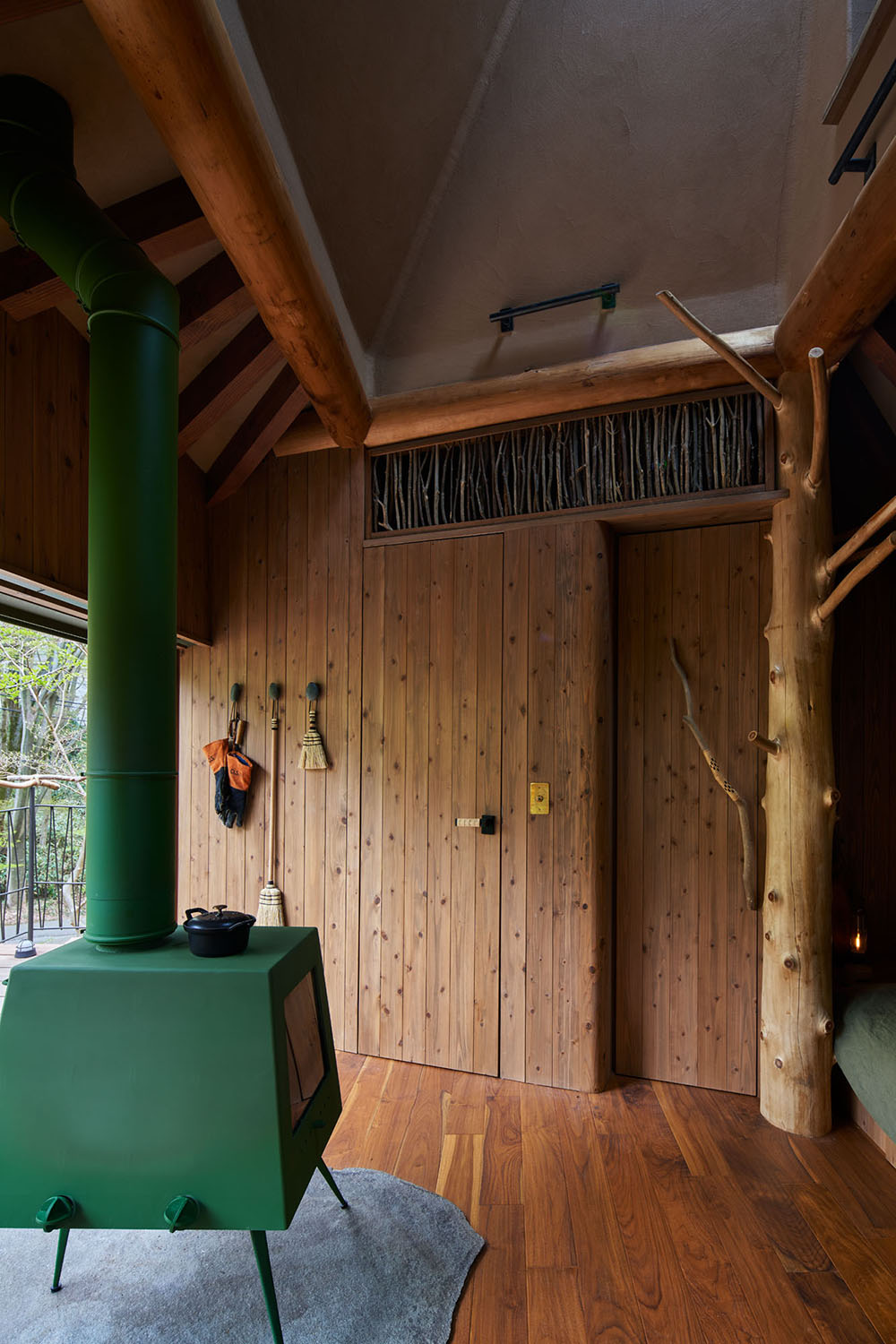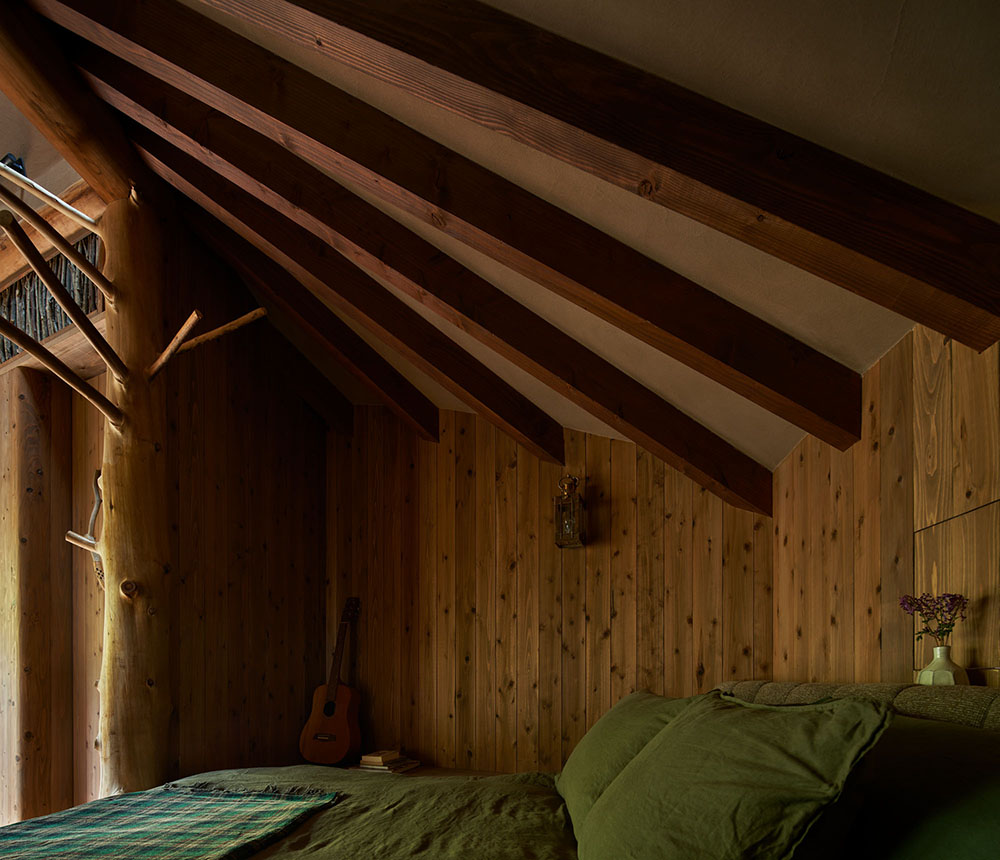 What sentiments compel a person to choose life as a recluse in a minimal space or a hut like Saigyo, Kamo no Chomei, Basho, and Ryokan or China's Tao Yuanming and Bai Juyi before them? All were formerly travelers having no attachment to owning places or materials. Come to think of it, this building resembles the wide-brimmed hat of Snufkin, another eternally wandering bard who visits Tove Jannson's Moominvalley. The project is essentially an experiment seeking the richness of a frugal life lived with delicate sensitivity towards nature and faith-like humility.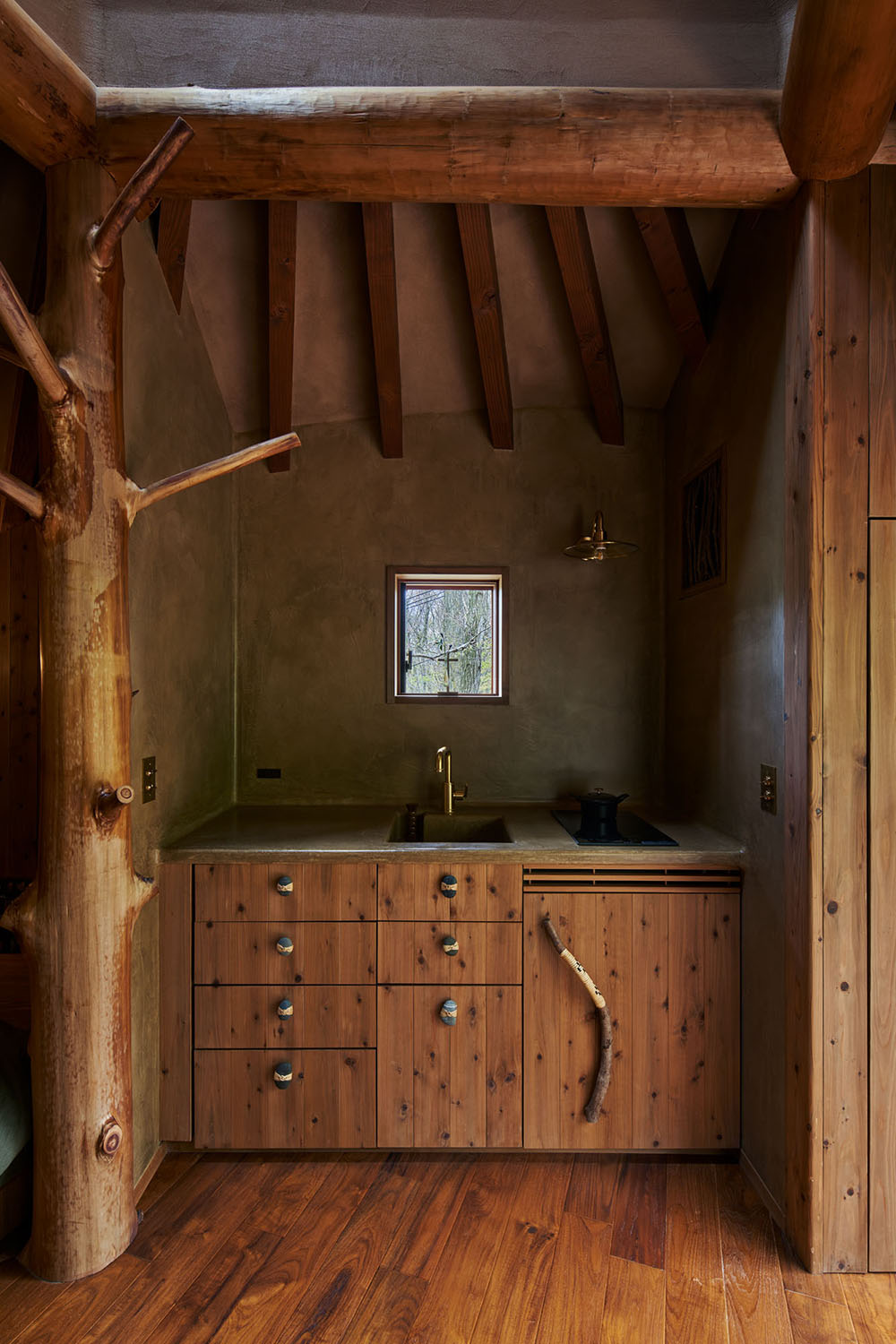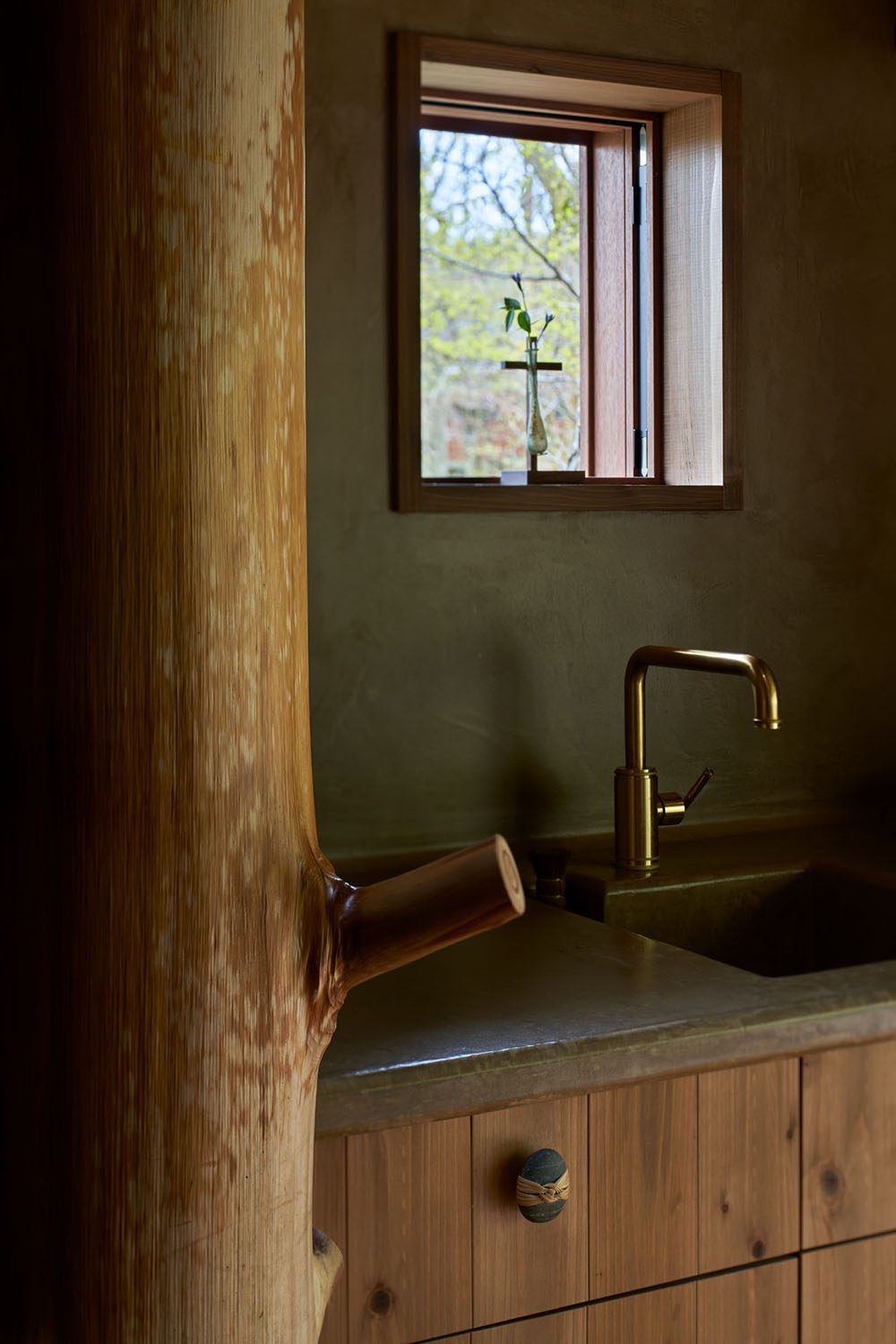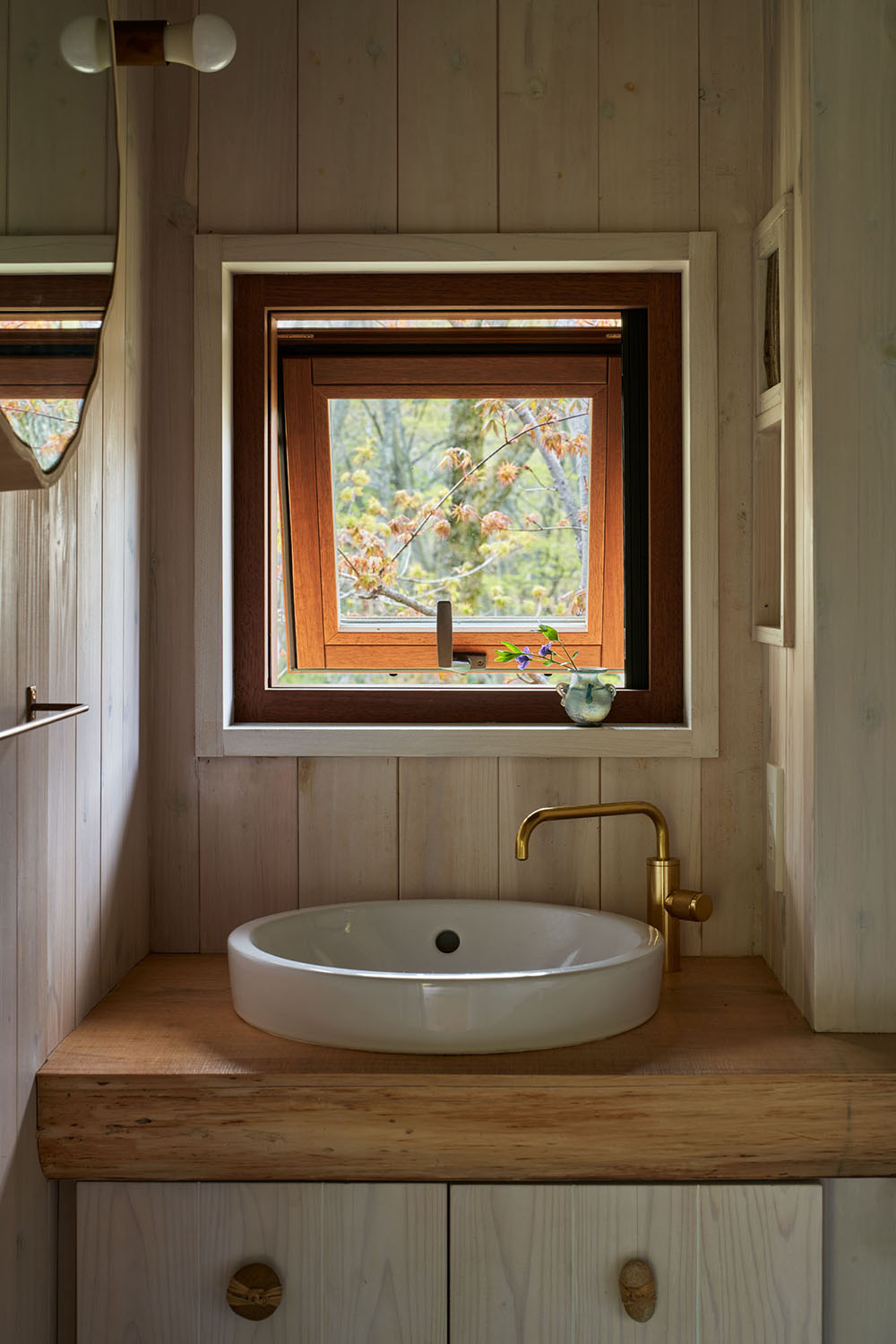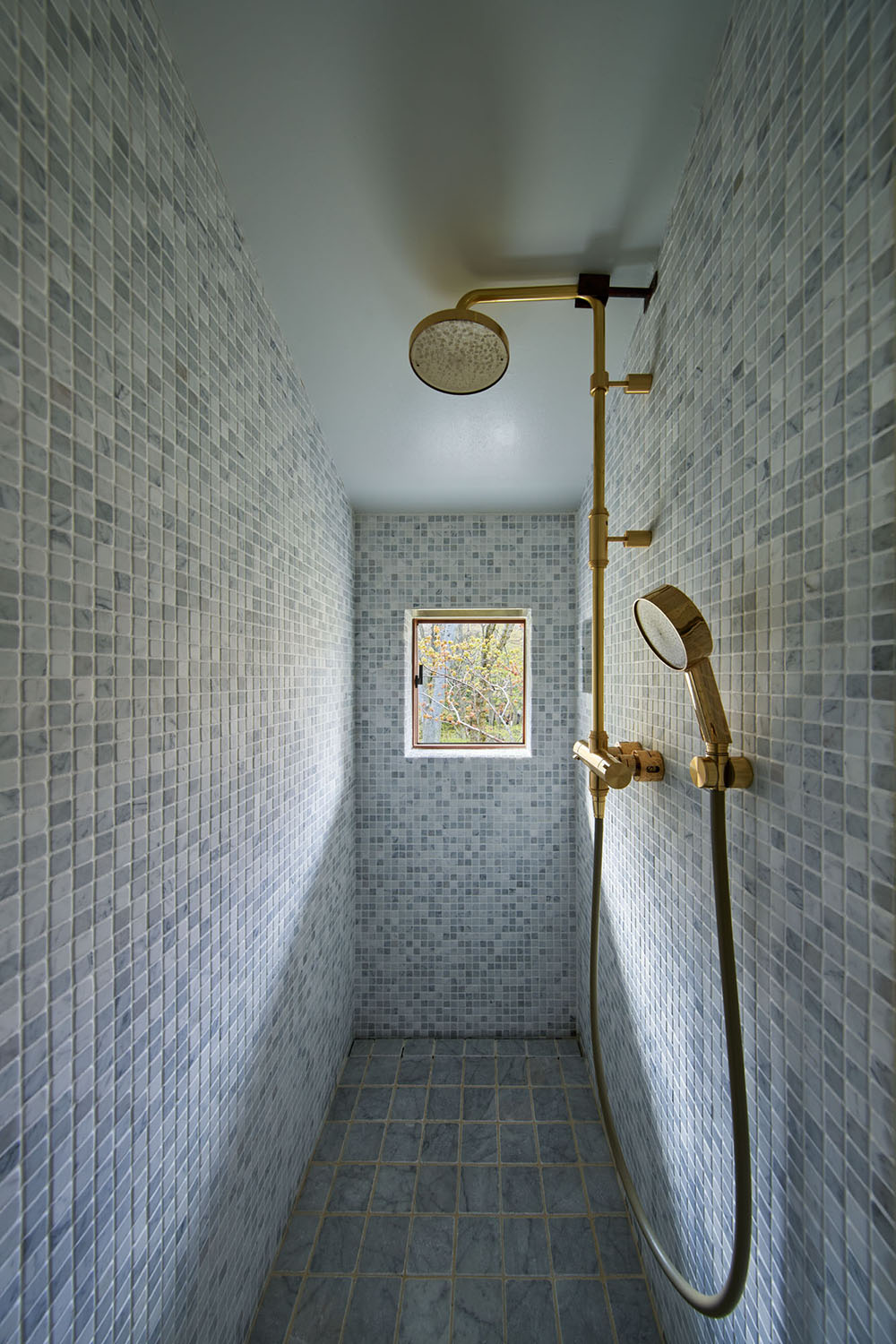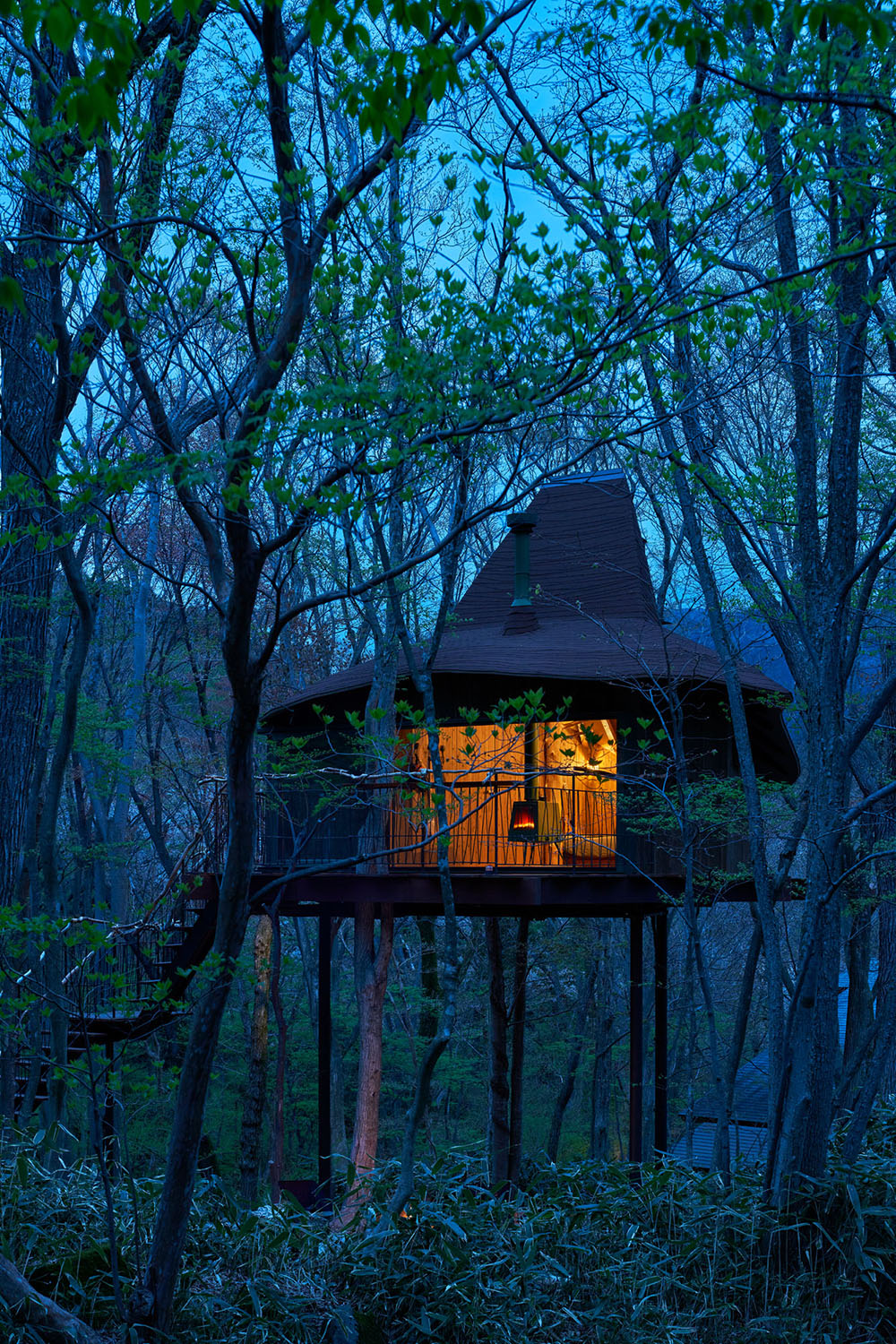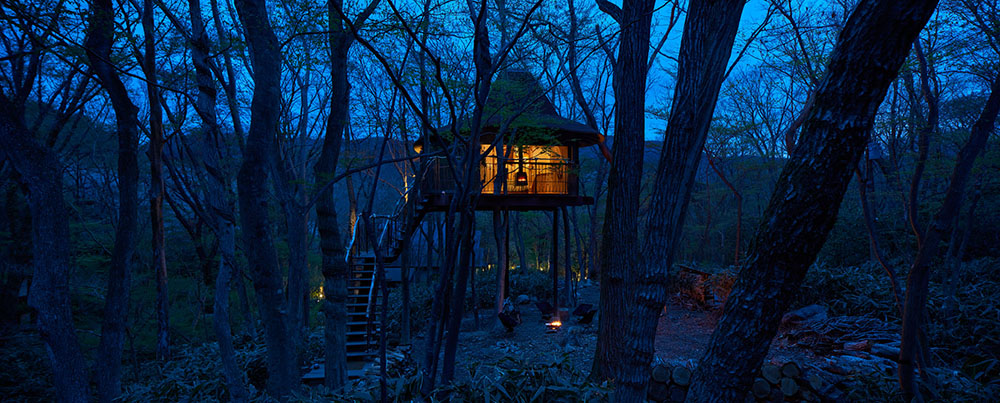 Completion

2020.10
Principal use

Residence/Model House
Structure

T+S
Constructor

Double Box
Site area

999㎡
Total floor area

19㎡
Building site
Structure design

yAt Structural Design Office inc.
Produce

TRANSIT GENERAL OFFICE INC.
Team

Masaki Hirakawa, Masaya Matsushita [former staff], Natsuka Matsuda [former staff]