KAMIKATSU ZERO WASTE CENTER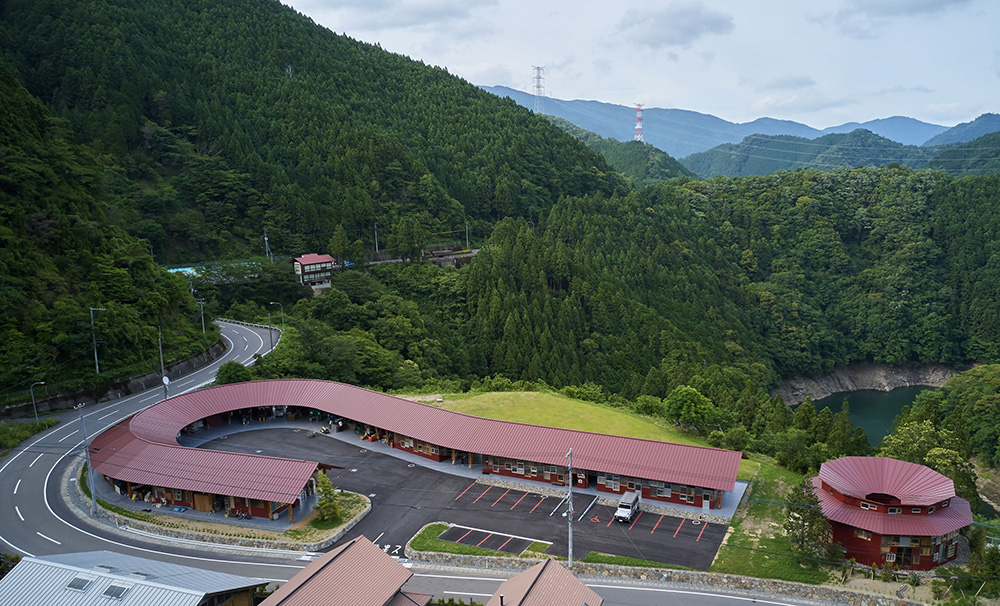 The town of Kamikatsu in Tokushima Prefecture aims to become a sustainable recycling community, and has pledged to produce zero waste by 2020. Its recycling rate has already reached 80% by sorting wastes into 45 different categories, but to achieve this goal, there is a need to reconsider not only the structure of waste processing of recycling, reusing, and reducing (3R), but also the awareness of product suppliers, the production-sales-consumption relationship, as well as our very own lifestyles. Moreover, we felt the need to create an opportunity for those who visit the facilities from all over Japan and the world to rethink not only waste sorting/collecting centers and recycling centers, but also our lifestyles. Thus, we planned and designed accommodations where visitors can experience firsthand the sorting of wastes into 45 different categories, seminar rooms for consumers, sellers, as well as producers, and a community center & office that promotes, researches, and teaches about the zero-waste movement, and to provide a place for the town residents to meet and communicate.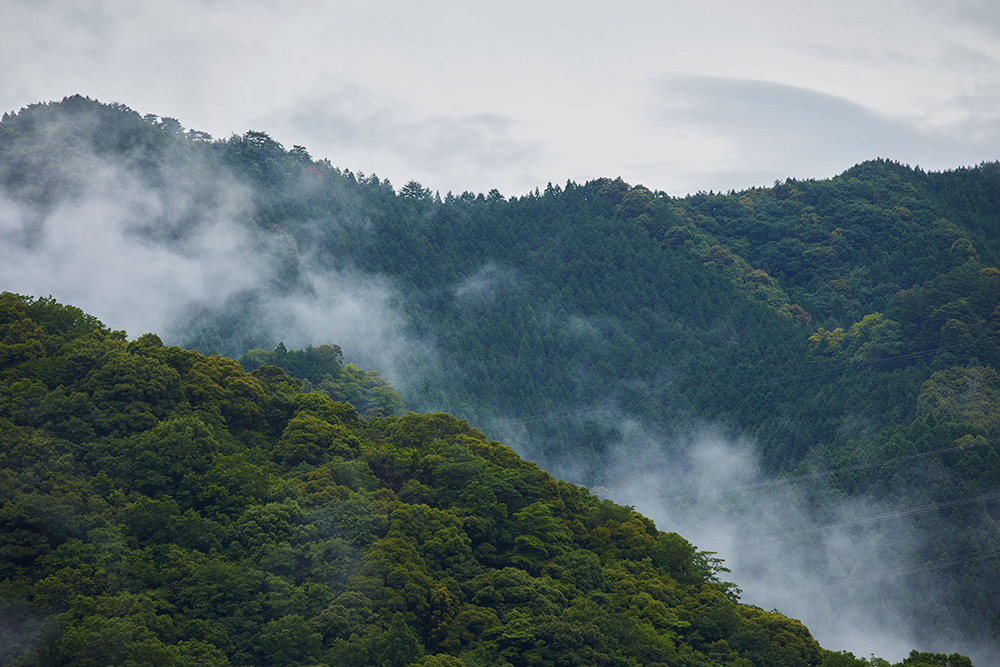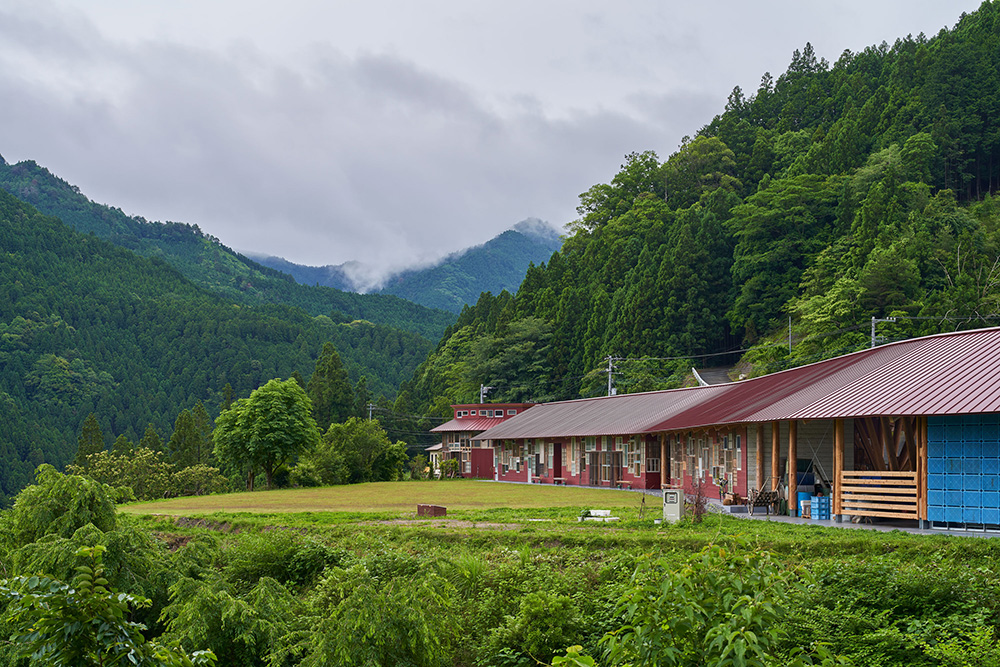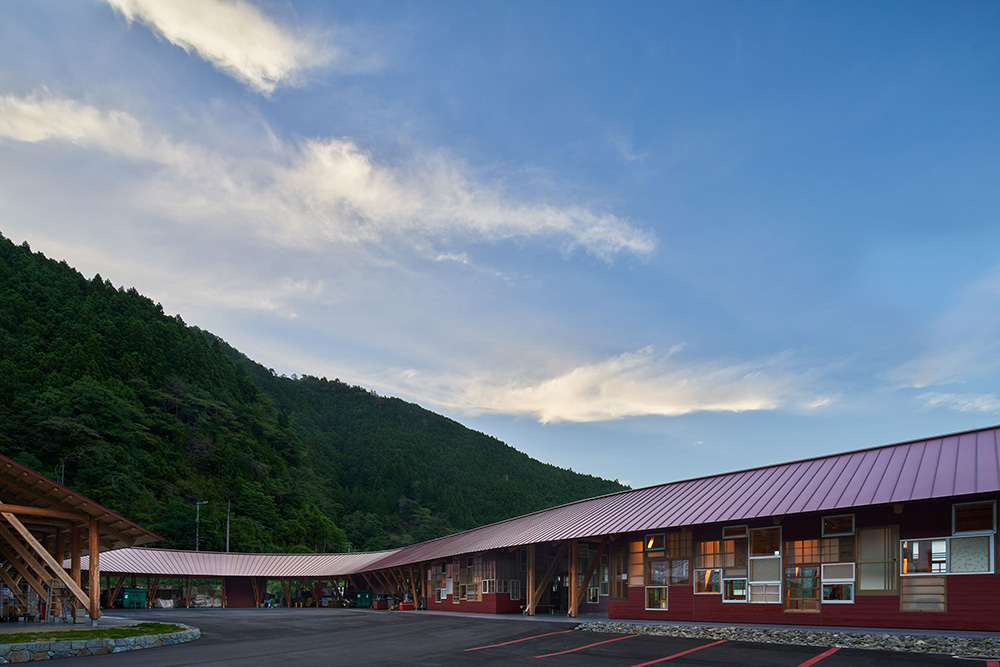 From left to right: garbage station, stockyard, repair yard, and reuse store, providing a panoramic view of the recycling process.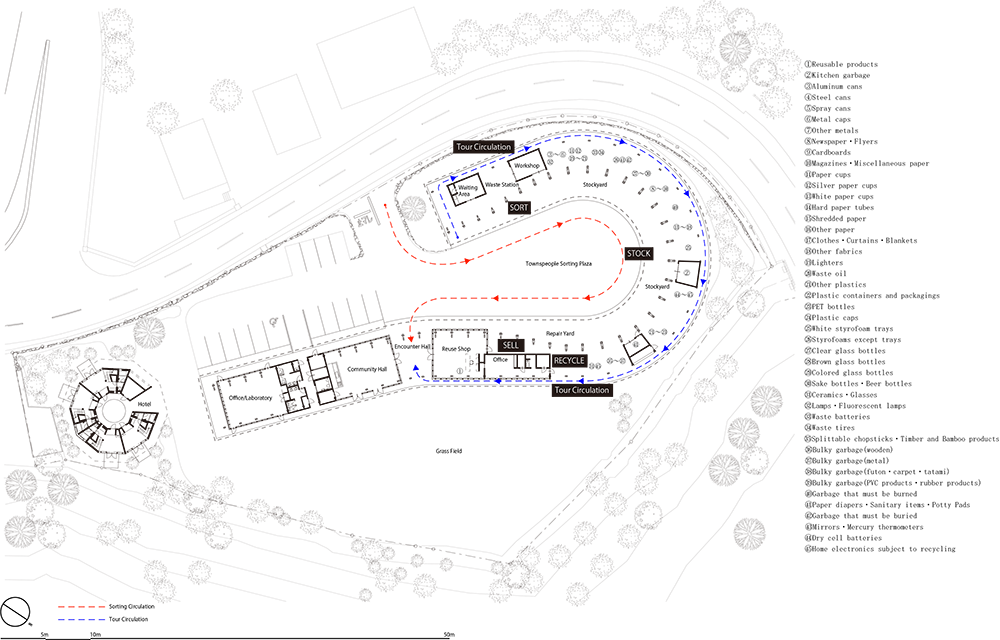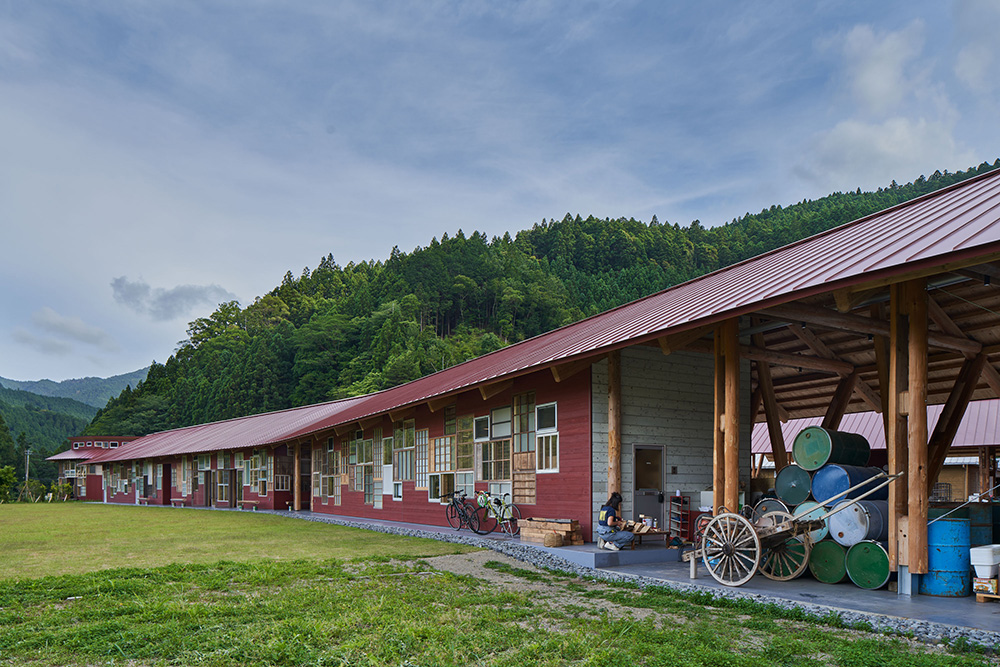 The goal was to create a seamless architecture that would not look out of place even if the garbage were lined up next to each other.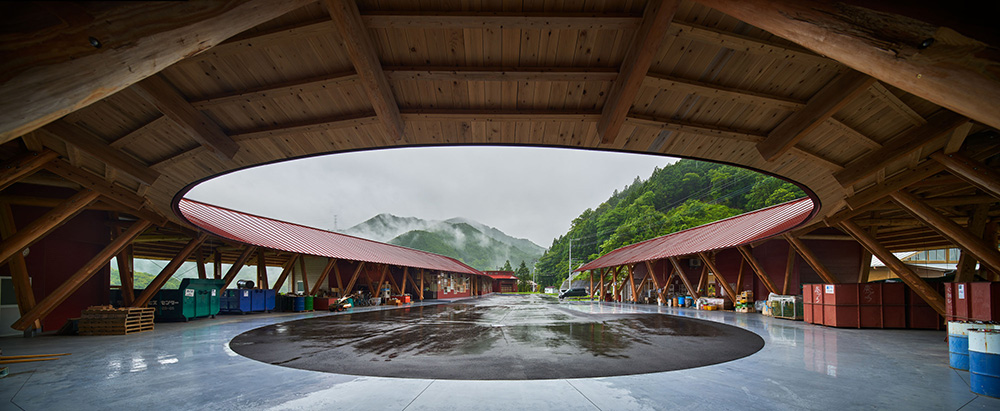 The drive-through sorting square provides a highly searchable space with a panoramic view of the 45-sort container yard.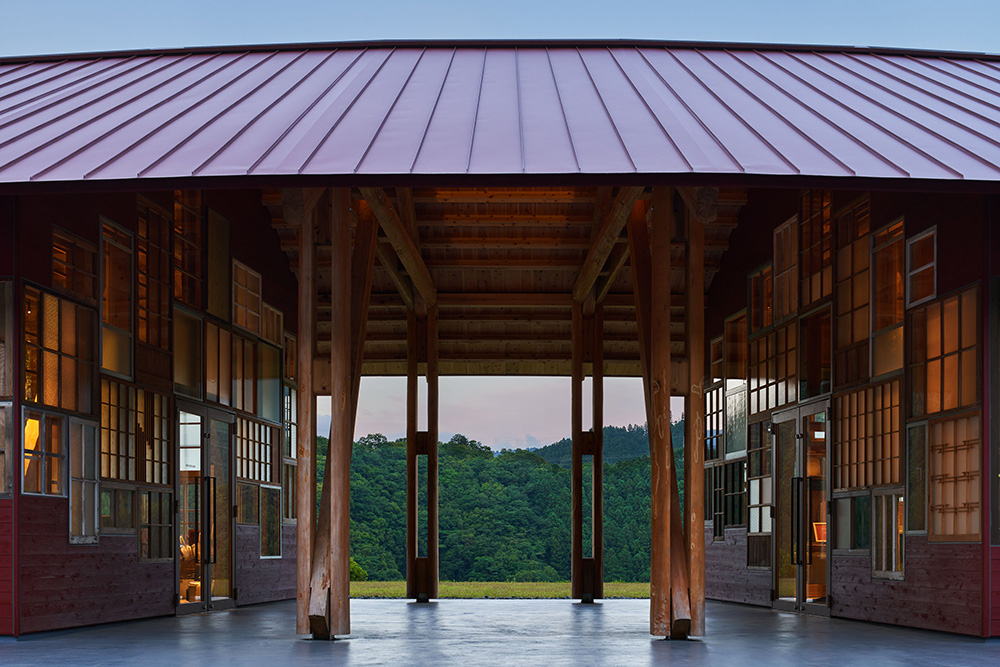 On a site that was once a waste field and landfill site, a facility has been created to protect the rich natural environment of Kamikatsu and to pursue a sustainable future.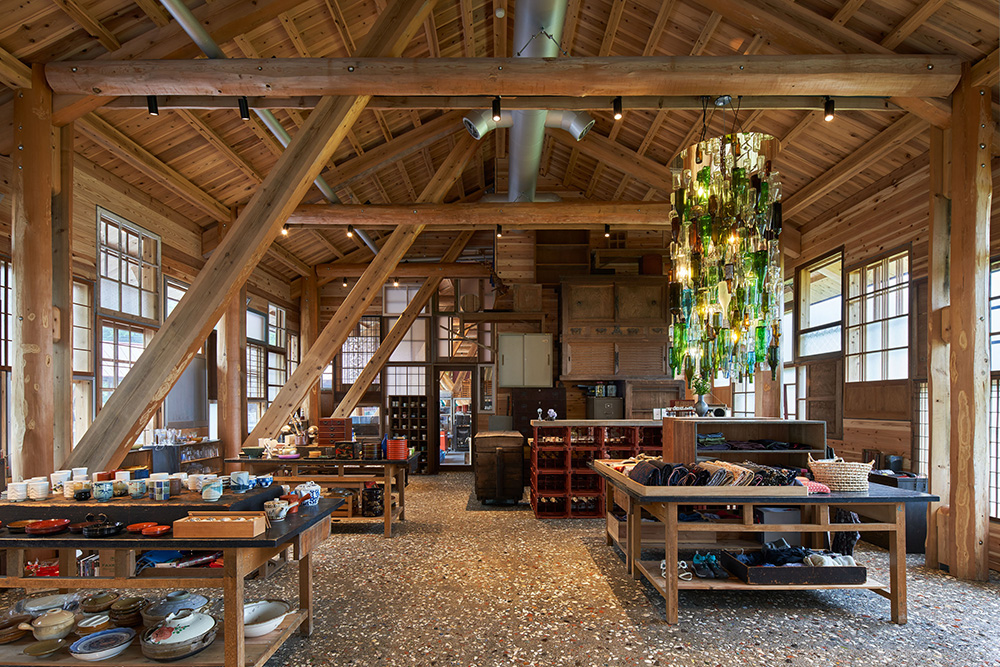 The Reuse Shop is a place where townspeople can bring in items they no longer need, which anyone can take for free. A variety of waste materials were creatively reused as an interior finish.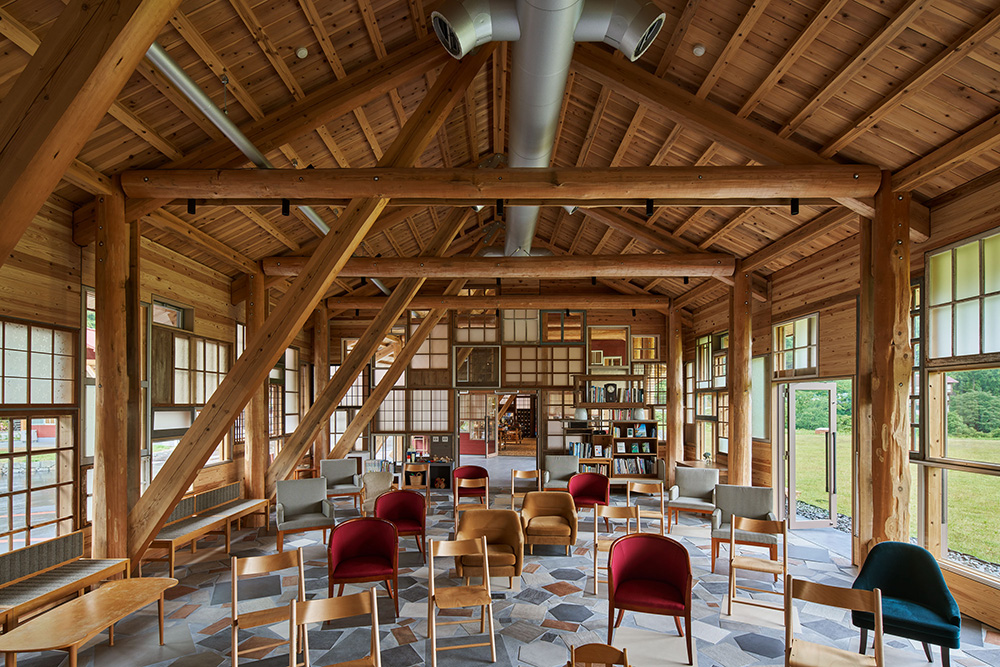 The community hall is used as a lounge for town residents and a hall for corporate training. The tiles of different colors and shapes are arranged in a radial pattern so that various chairs can be placed stably.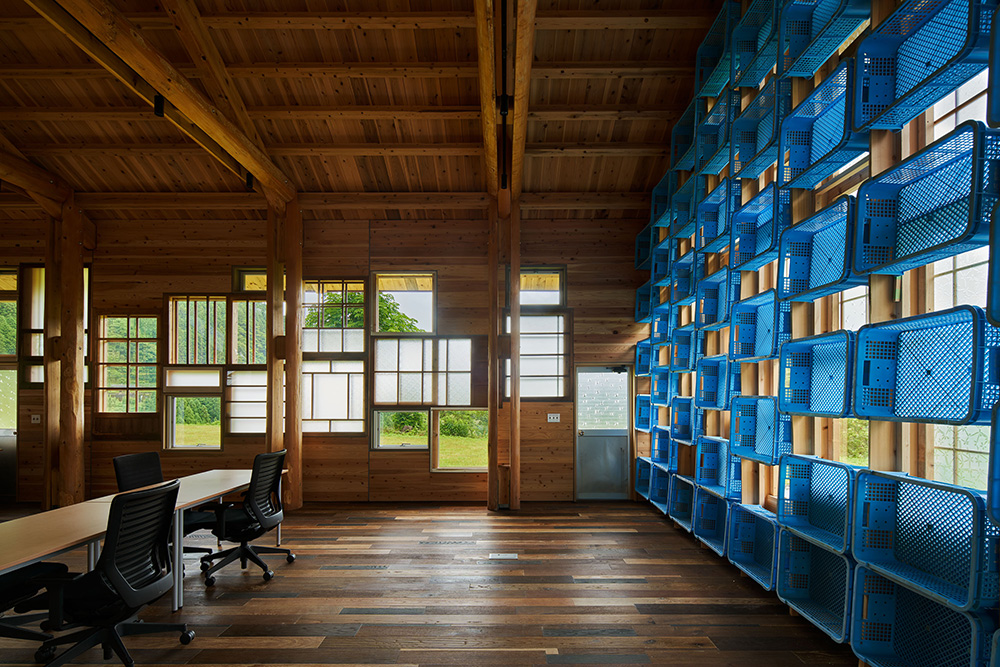 Harvest containers from a shiitake factory were reused as a blindfold for mechanical space and bookshelves that also prevent buckling of mullions.
Kamikatsu's key industry was once forestry, but all that remains today is neglected cedar forests. For the building structure, we decided to use the cedar logs in their original forms in order to minimize the processing and avoid creating waste. Retaining the thickness of the wood made it stronger than sawn square timber, while the presence of wood is beautiful. However, they are hard to dry, mark, process, and unsuitable for pre-cuts, thus we decided to roughly saw the logs and sandwich the timber between the two pieces of timber and fasten them with bolts. This eliminated the need to process the joints, and the simple assemblage with a circular washer inserted in between the members and fastening with just one bolt allowed for local contractors to handle construction/maintenance and simplified sorting process when demolished.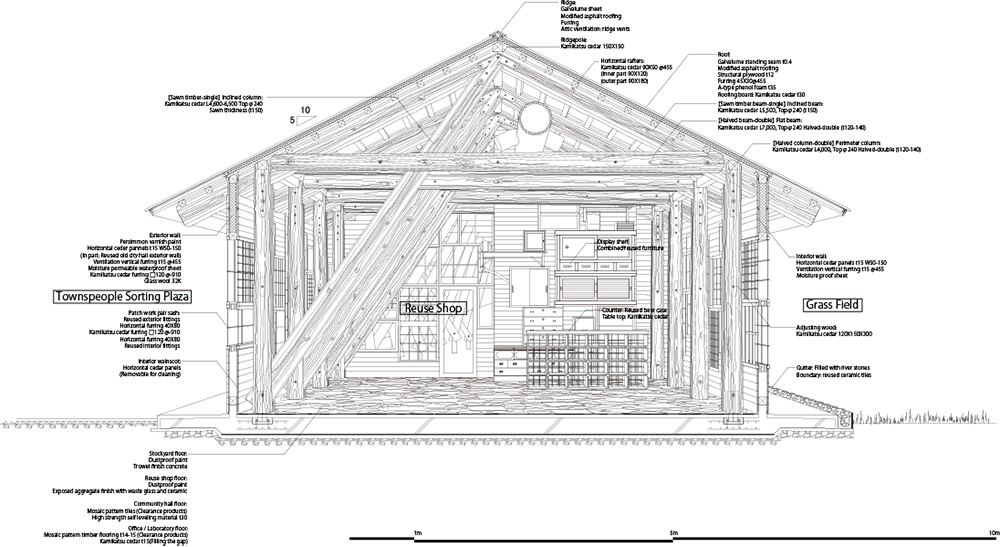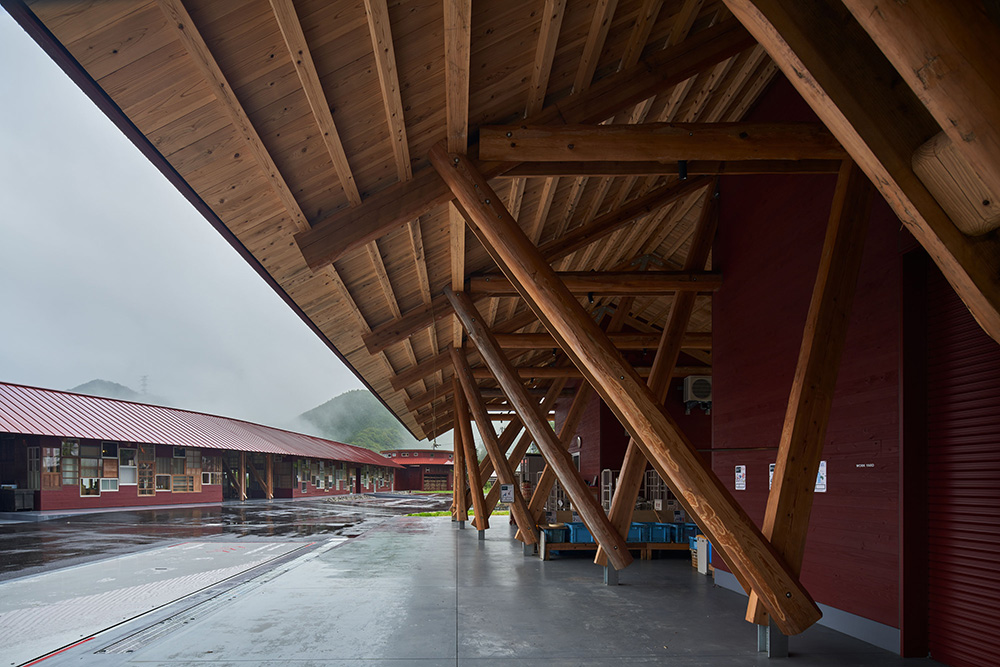 Transforming structure. A truck scale to measure the load is buried in the left road surface.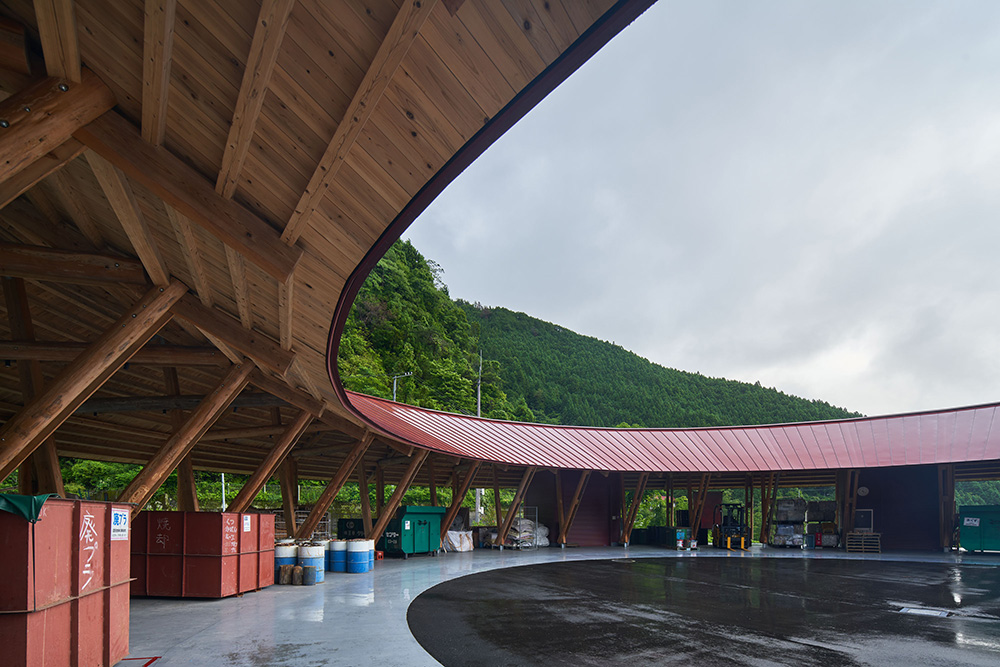 The column legs are gradually offset to allow easy access for forklifts and vehicles.
This linear architecture with repeating frames with an identical cross-section has a structure where column positions can be offset for easier maneuvering in rooms where waste collection trucks and forklifts rotate, which makes the architecture gradationally transform.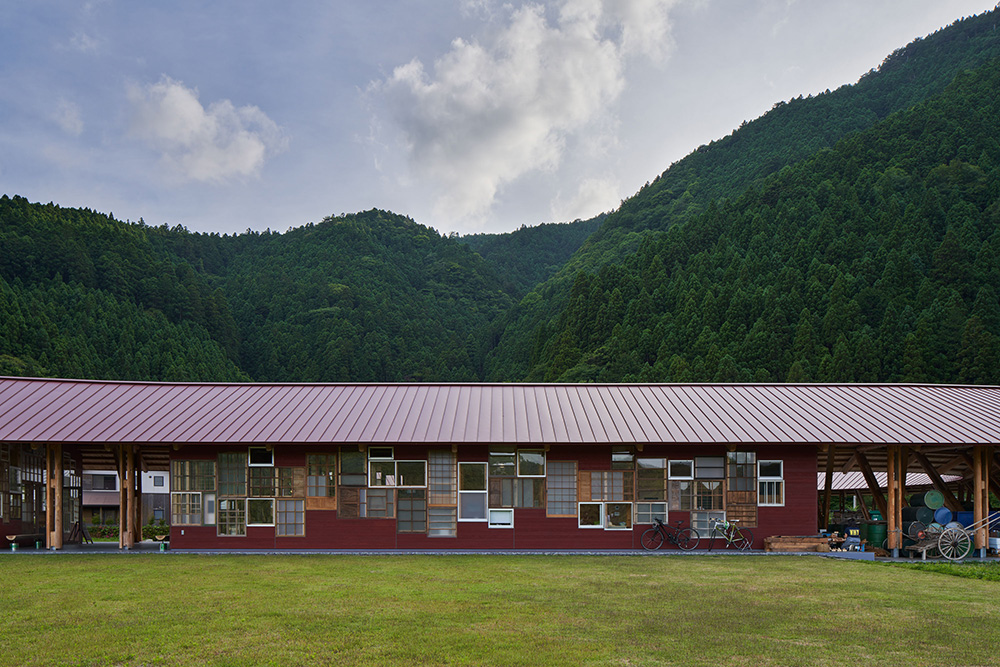 A patchwork window made up of about 700 pieces of fixtures gathered in a town with a population of less than 1,500.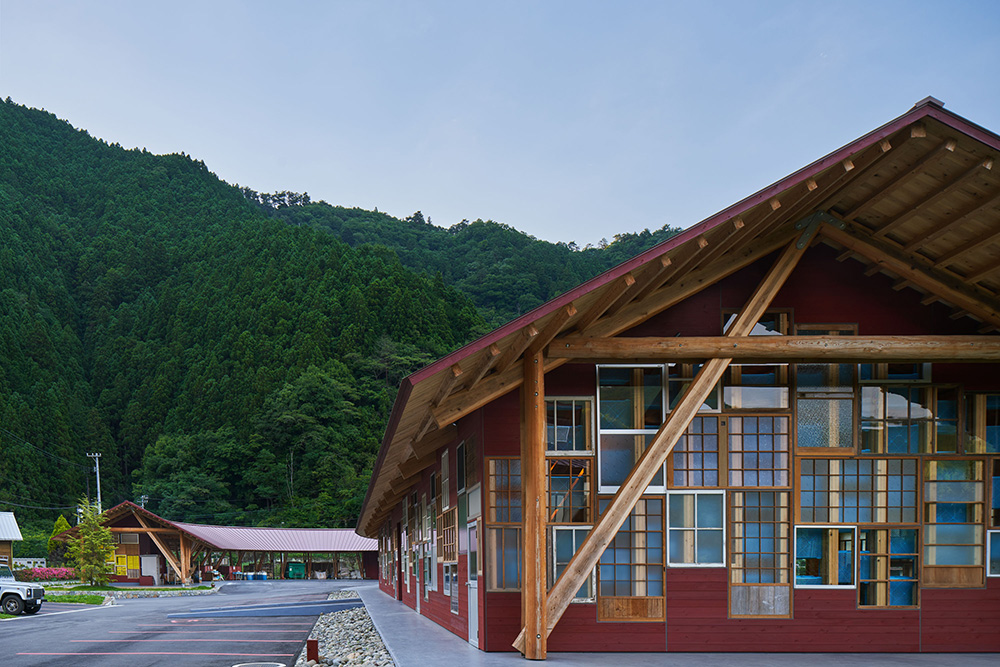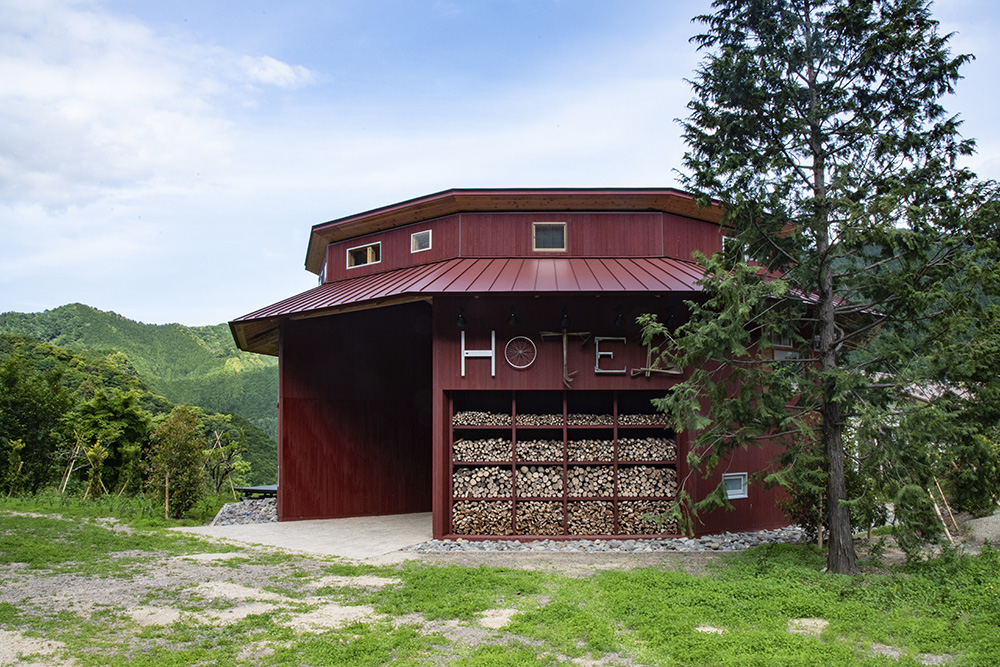 The hotel consists of four maisonette-style rooms arranged in a circle.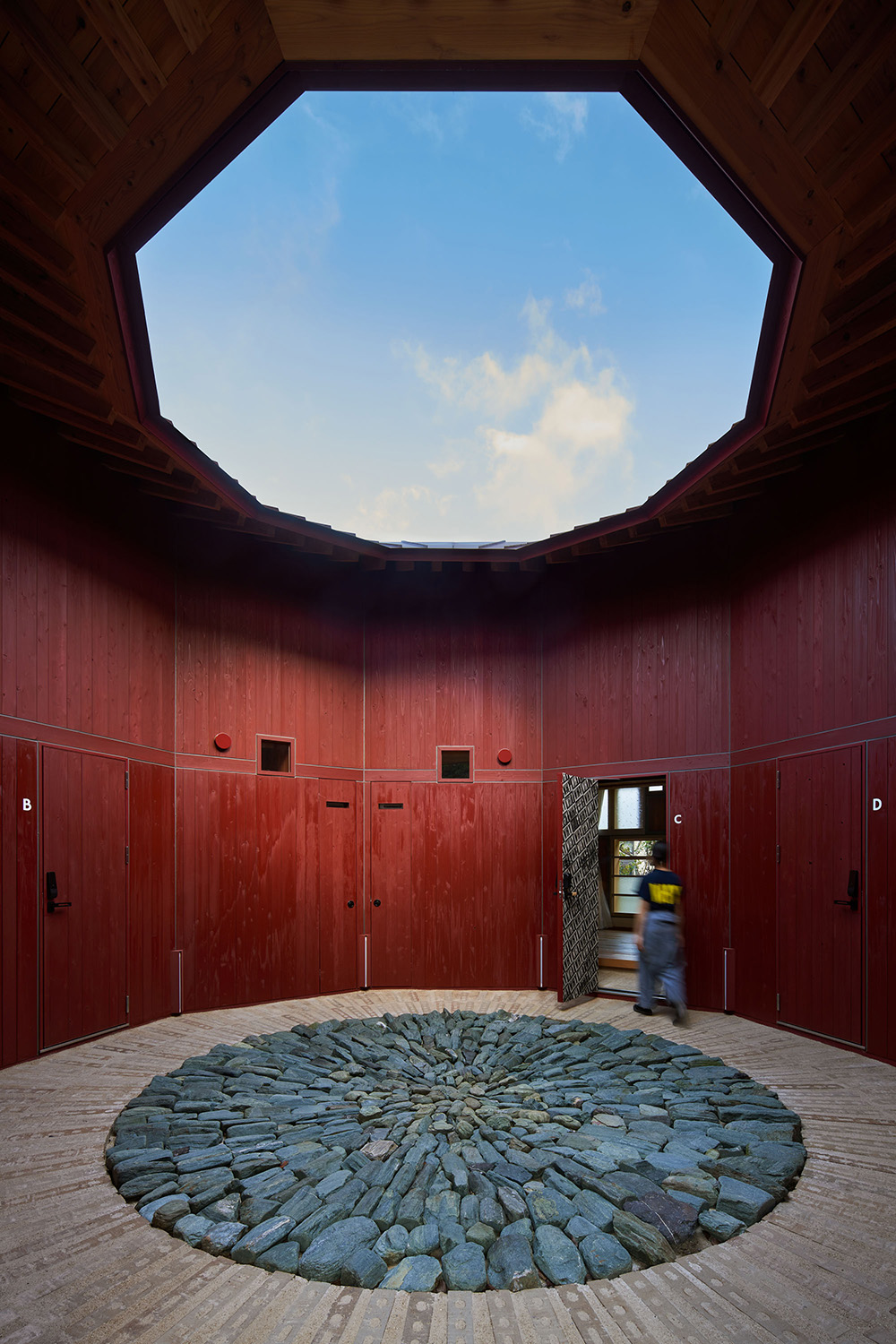 The garden for the lighting of the hotel. The center is made of stones from the Kamikatsu river, and the surrounding area is paved with upright rows of bricks from disposals.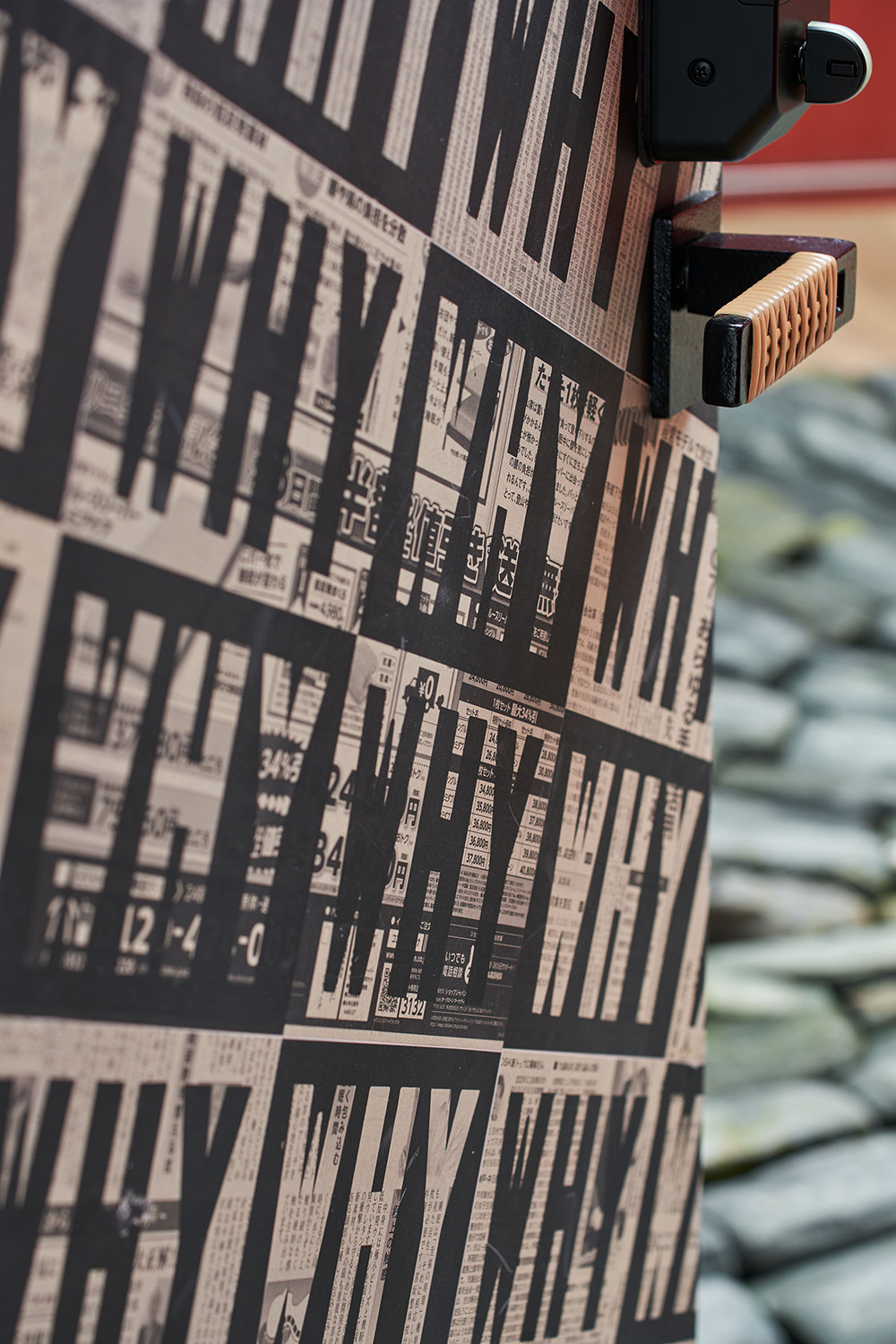 On top of the consumer ads in the newspaper, "Why buy it? Why do we throw it away?" The letters "WHY" were letterpress printed over the newspaper consumer advertisements as wallpaper.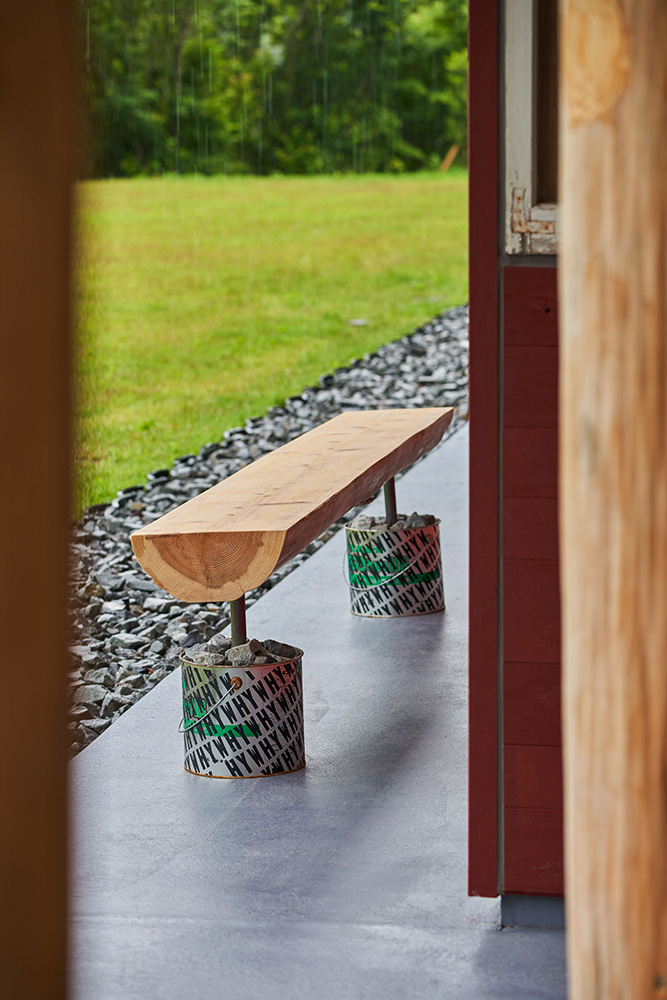 One-paint cans from the construction are being reused for benches.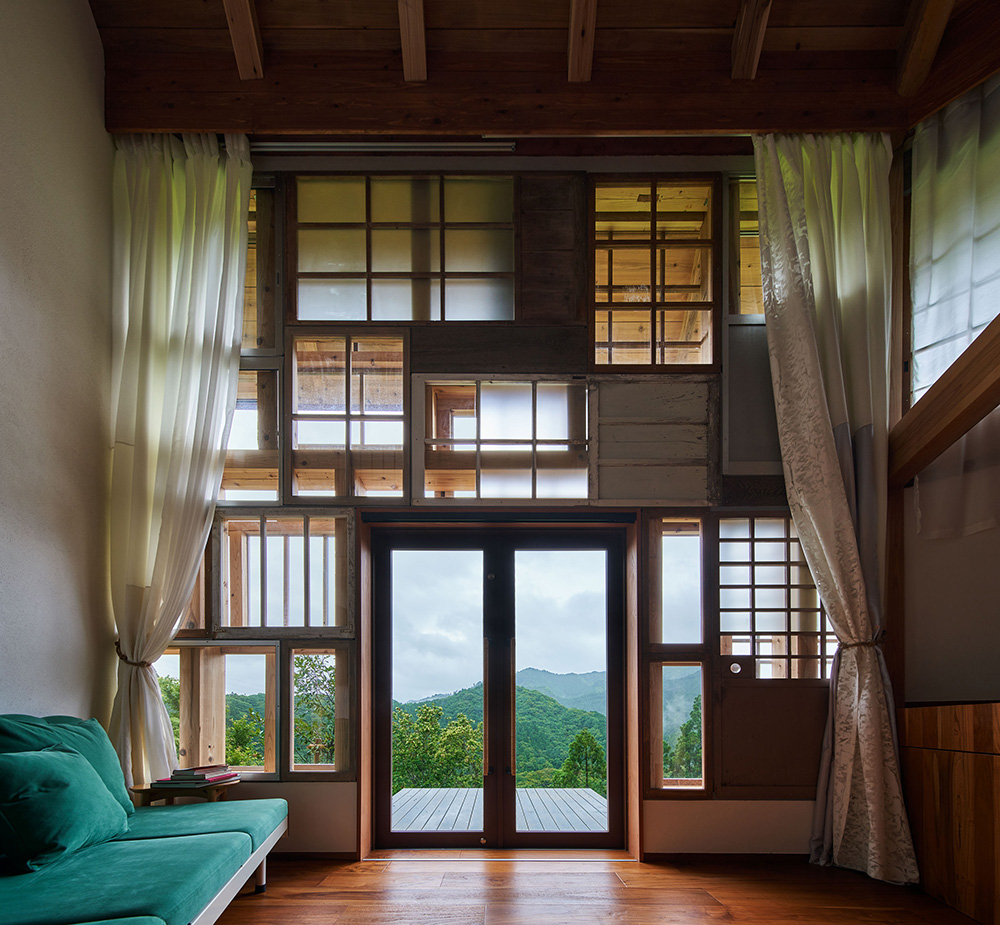 Hotel room. The windows, curtains, sofas, etc. are made from reused materials.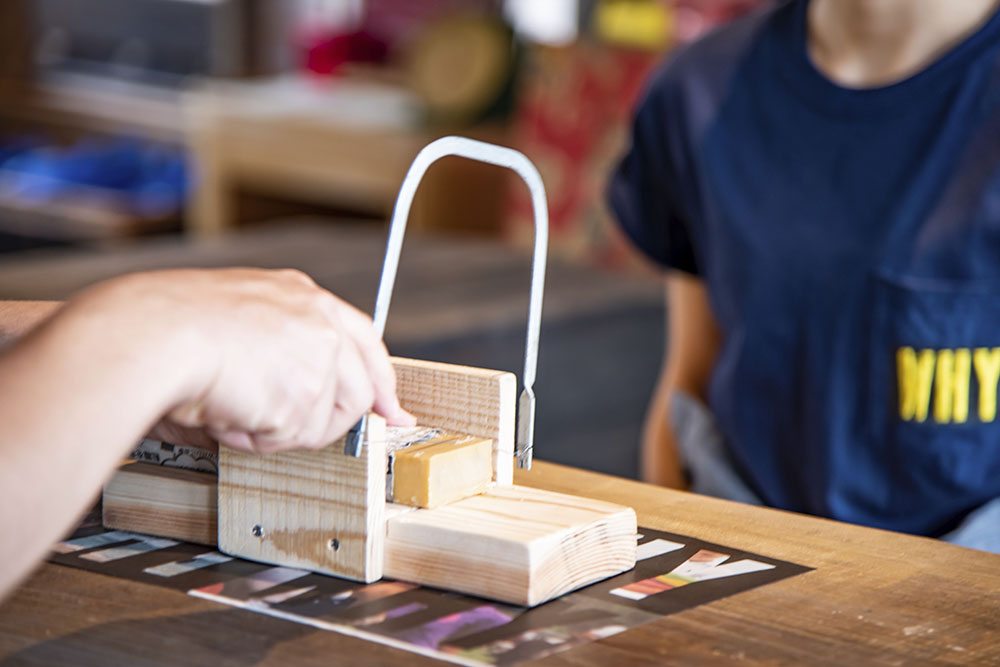 Separate the coffee, tea, and soap from the service into smaller portions for your own use.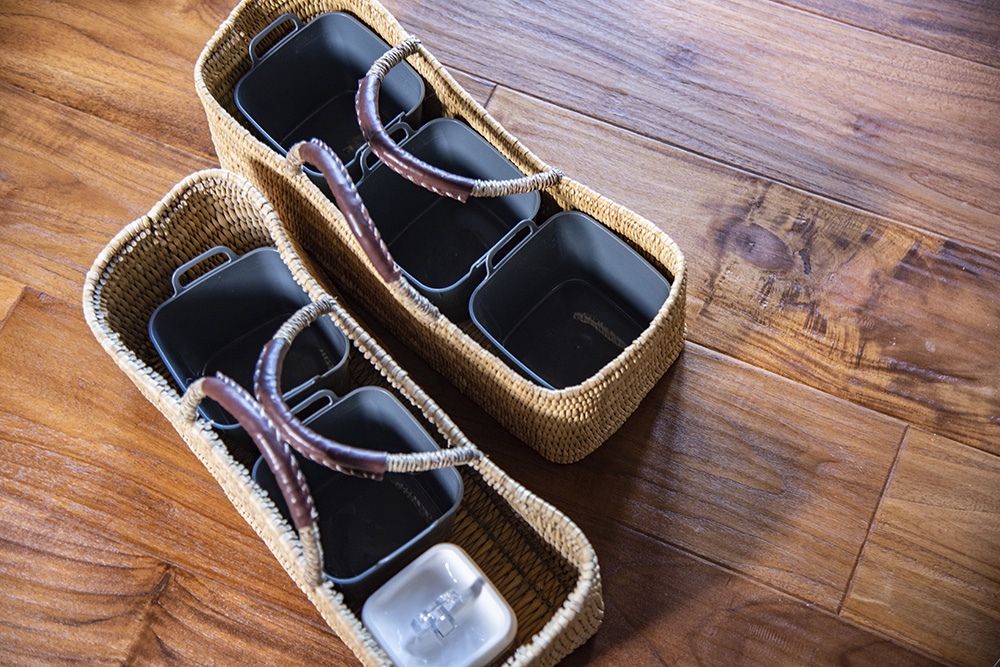 Guests can experience sorting their own garbage during their stay.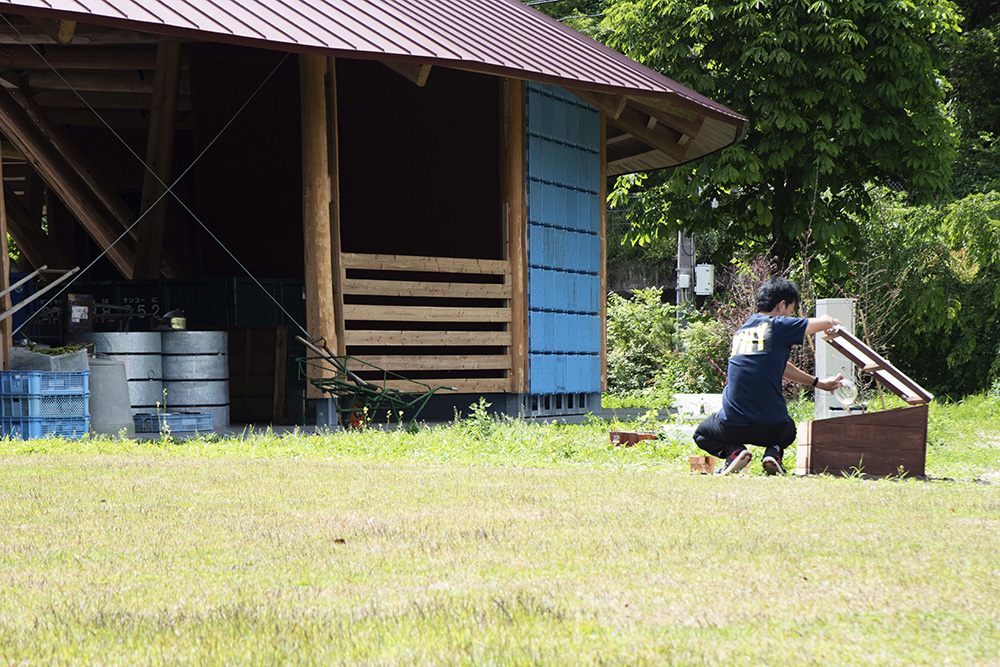 Garbage is composted using a composting system.
At the recycling center with its wall covered with stacked chests of drawers and cabinets, a grandmother may point at her old bridal wardrobe and share the family history with her grandchild. By visualizing and making maximum use of Kamikatsu's resources rather than considering them to be "wastes," we begin to value things and realize the richness of the life in this town. By embodying the identity of the town in the architecture, it allows people in this town to be proud of their way of living.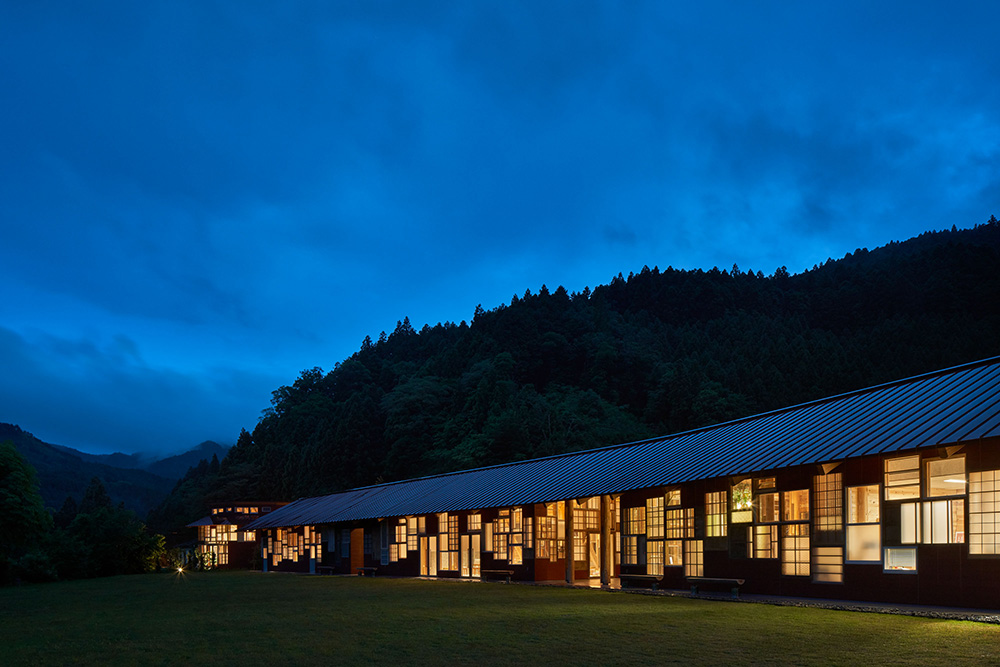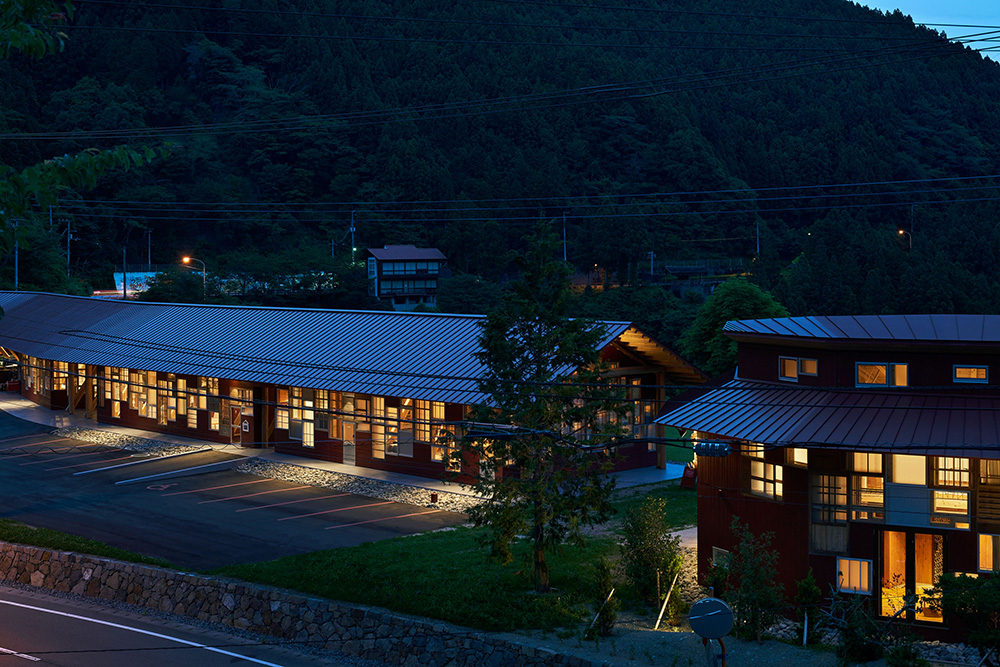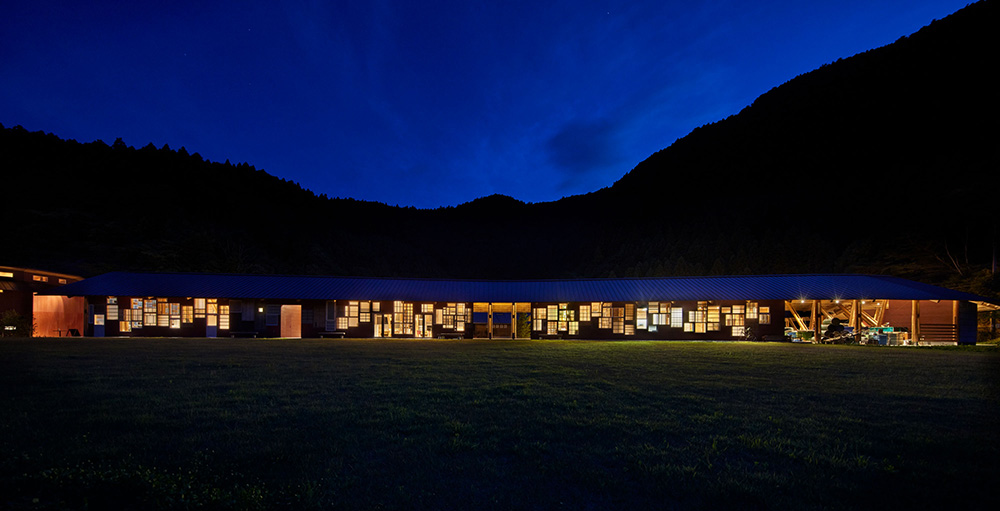 The windows of the houses that used to light the way have been gathered together to form a lantern of hope that illuminates the depopulated town.
Completion

Public Hall
Structure

Timber
Site area

5,557m2
Total floor area

1,176m2
Structure design

Yamada Noriaki Structural Design Office Co.,Ltd
Branding, Creative Production and Experience Design

TRANSIT GENERAL OFFICE
Contractor

Kitajima Corporation
Furniture design & Production

Wrap architect office
AIJ Prize 2021 Architectural Design Division